Recruitment Consultant
Learn the strategies and techniques needed to be an effective recruiter with this online recruitment consultant course.
Publisher:

NuYew
In this course, you will learn the process and laws that govern a recruitment consultant's practices. Employers hire recruitment consultants when they want to find the ideal candidate. A recruitment consultant will use specific sourcing methods to look for a suitable match and start the recruitment process. This course will help you to master some principles and techniques of interviewing, writing a job post and reviewing applicants.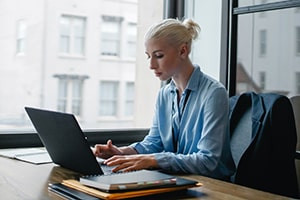 Duration

6-10 Hours

Accreditation

CPD
Description
During this course, you will learn the processes, theories, and laws that govern a recruitment consultant's practices. Client firms hire recruitment consultants to find suitable candidates for their job vacancies. They are mainly agency-based, but some are hired for working with an in-house team. These consultants use knowledge of their client companies, the company's structure, the personalities in senior positions and what the working conditions are like to match a potential candidate. Their work can be compared to a sales role because they must initially sell their agency's services to attract business client companies. It is possible to get into the recruitment industry without experience in recruitment. However, it is useful to show previous experience of working in customer services, being part of a team, and being a person who can get along easily with others. As with other jobs, career progression depends on your ability to reach sales targets and work goals. This type of industry is continually changing because the skills and sectors are being updated regularly. You will learn what type of industries are number one for growth and skill shortages globally as well as in the UK.
A recruitment consultant will usually use specific sourcing methods to look for the ideal candidate and start the recruitment process which will be discussed within this course. A successful temp agency takes the time and expense of adequately screening staff members. This is a crucial step in maintaining a qualified employment agency to assure clients that the agency's people are competent and can step in without much training to get the job done. A consultant will compose various documents that are crucial to ensure a fair and honest job posting. You will be taught which documents are needed during this course. Failure to conduct a truthful advertisement can result in severe problems and damage an agency's reputation in the recruiting industry. Once a job profile has been composed, it is time to post it. It is essential to stand out to potential clients by using popular specific keywords that users often use while searching for work. However, if a consultant notices that there is not much response to the advertisement or the flow of clients is low during the recruiting process, they can use helpful tips and techniques shown in this course that can aid to attract the desired audience.
Once a job advertisement has been written and posted, there are some principles and techniques of interviewing to master before you begin interviewing. It is better to start with a list of candidates who would all be able to do the fundamentals of the role. During an interview, bear in mind that it is extremely unlikely that you'll find a candidate who matches every single item on both your list of essentials and desirables. If someone were to fill the majority of requirements on the list, chances are they are best suited for that position. Anyone with an interest in the recruitment industry will gain a lot from this course. From an experienced recruitment consultant to one just starting out that would like to expand their recruiting skills or learn new methods of obtaining a successful hire. This course will be beneficial to those are recruiters and manage a Human Resource Department as it teaches you the techniques and reasons behind choosing the ideal candidate, writing attractive job descriptions, and conducting a professional interview. Recruiters, managers, students and more can benefit from learning about Recruitment Consultants.
Start Course Now