Presenting Financial Information - Making the Numbers Talk
Learn how to effectively present clear and understandable financial information with this free online course.
Publisher:

Ross Maynard
Financial reports provide information about your company's revenues, expenses, profitability and debt, for you and investors to make informed decisions. This free online finance course will teach you the basic principles of presenting financial information, guidelines for designing effective management reports, and how you can interpret performance data to help you and your organization make better business decisions.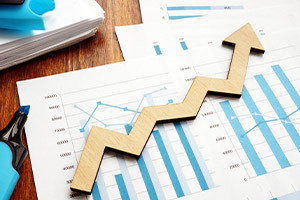 Duration

1.5-3 Hours

Accreditation

CPD
Description
Businesses and managers need up-to-date financial data to make fast and accurate decisions. The financial report helps managers to rely on the information presented to them to identify problems and challenges in the business and focus on the root causes. Poor financial data makes executives, management and stakeholders confused and ask a lot of questions. This free online finance certification will introduce you to basic finance principles in presenting financial information and the need for a clear strategy. You will discover the hierarchy of performance indicators in an organization and learn how to choose performance indicators appropriate to your audience. Study the principles of effective reporting to help you monitor performance, plan improvement and make effective decisions. 
The next section of content in this online finance course will teach you how to effectively present financial information using methods like the Run Chart, the Pareto Chart and the Control Chart to help display patterns. You will discover how to calculate the natural process limits and do an exercise on the Control chart before discussing an example of a management report to show you how you can present financial data and analysis. You will learn to interpret performance data to understand performance, results and trends, and some questions to help you in analyzing performance in your organization including how you can support your colleagues when giving feedback to improve their performance. The creative section of the course will show you different approaches to data visualization like dashboards to help create engaging and easy to understand information, including detailed examples.
Presenting numbers and other financial information to an audience with no financial background is challenging. Business owners and investors rely on data to make sound decisions, but inaccurate financial data leads to inadequate or incorrect decisions. This course allows you to learn finance presentation techniques and will equip you with the best practices to create a high-quality financial presentation so that your points are concise and understandable to enable informed decisions. Presenting as a discipline is important for anyone with career aspirations and this applies particularly to the field of finance because of how specialized it is. Enrol for this course as a finance or business student or finance professional and boost your finance presentation skills to set you apart in the market.
Start Course Now