An Overview of Corporate Finance
Learn how to analyze corporate finances as well as organizational financial planning with this free online course.
Publisher:

One Education
Managing corporate finance and its related financial principles are essential to business success. This free online finance course teaches you the purpose and importance of corporate finance, appropriate short- and long-term financial planning as well as how to analyze these outcomes. You will also learn about profitability and how to maintain it during tough financial times in this free online Overview of Corporate Finance course.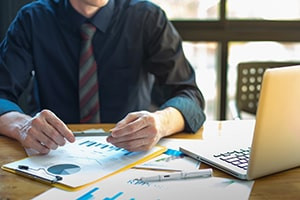 Duration

3-4 Hours

Accreditation

CPD
Description
Finance as a field of expertise is applicable in all organizations from multinational corporations to small businesses and non-profit organizations. This free online course kicks off by discussing the purpose of corporate finance, investment, finance and return activities you can expect as a financial professional and the role and responsibilities involved in financial management. The following themes are short- and long-term financial goal-setting, financial growth and all the related analytical tools you may encounter in this line of work. Another important task of anyone within finance is preparing and studying balance sheets and the course content covers this comprehensively. Relatedly, you will study the most important financial ratios and how to leverage these accounting ratios when seeking financing for purchasing assets or assessing debt.
Apart from teaching you methods for earning money for an organisation, this course discusses how to prepare for and handle financial risk which includes the factors involved in risk-return tradeoff, the basic concept of financial risk, the major kinds of financial risk and the most common methods used to analyze and assess risk. This corporate finance course will introduce you to profitability during financial downturns and the changes a company can expect to make when this occurs along with basic ways to save money during downturns, methods to help make money and strategies to help your financial status. Legislative frameworks, their amendments and some potential regulatory changes are then covered as well. The final part of this free online course deals with career paths in finance, the ideal qualities and characteristics for a finance professional, recommended training and the various situations and challenges you could face within corporate finance.
If you are interested in a career in a corporate finance department or are keen to learn more about financial principles, you will find that this course provides the skills, tools and practical theory to broaden your knowledge and career potential.
Start Course Now