An Overview of Corporate Finance
Learn how to manage and analyse corporate financial planning within an organisation with this free online course.
Publisher:

One Education
This free online course teaches you the ultimate purpose and importance of corporate finance. You will learn about appropriately planning finances and investments for the long and short term, while also learning how to analyse the outcomes. The course will also explain how a company can remain profitable when facing a financial downturn.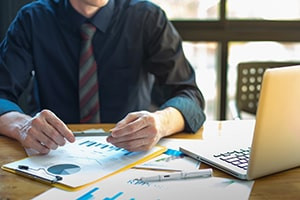 Duration

3-4 Hours

Accreditation

CPD
Description
This free online course will begin by introducing you to the purpose of corporate finance for an organisation. This course explains what investment, finance and return activities you should expect to experience as a finance professional. The primary role and responsibilities of a financial manager will be covered in this course. You will learn how to plan financial goals for a company to maximise future growth potential and capital. How do you maximise future growth? You make short term goals and plans which will be taught in this course. Short term goals allow you to see how a long term goal can be achieved. The course also details various analytical tools that can be used to study changes in finances over a period of time in a business' life. This course will introduce you to the importance of properly preparing and studying a balance sheet outlining a company's assets and liabilities. An important skill to have when managing finances is knowing leverage ratios when assessing debt. One of the most common ratios will be taught to you in this course which will stand to you as a professional. You will be introduced to the different forms of financing that you may encounter in the workplace. Knowing these forms of financing can show you the best way forward for the organisation's capital while also preparing them for a successful monetary future.
Apart from teaching you methods for earning money for an organisation, this course will discuss how to prepare for and how to handle financial risk. You will learn the factors involved in risk-return tradeoff, the basic concept of financial risk, the major kinds of financial risk and the most common methods used to analyse and assess risk. This course will introduce you to profitability during financial downturns and the changes a company can expect to make when this occurs. This will include basic ways to save money during downturns, methods to help make money and strategies to help your financial success endure. These methods will be invaluable to you as an employee or an individual when faced with financial hardships. You will also learn about the ever-evolving framework that makes up the financial industry. Multiple acts passed over the years will be discussed in detail, as well as their corresponding amendments that make this framework liable to change in the future. These acts will help introduce services and potential actions companies use when dealing with financial and investment decisions.
You will wrap up with the various career paths available for learners interested in corporate finance. The ideal qualities and characteristics for a professional on this career path are discussed at great length. This also includes the possible degrees and certificates most beneficial to securing a role in the world of finance. Other benefits, such as various ways to build up experience in the field and outside the classroom, will also be taught in this course. Once securing a position in the financial sector, the wide range of matters that a corporate finance professional could potentially face will be introduced to the learner. For those of you interested in a career in a corporate finance department this course provides the skills and tools you will need to lead your organisation to a lucrative future in terms of capital and investment. Learners entering the workplace in other departments can also use this information to prepare for decisions made concerning a company's financial future. So, why wait? Start this course today and learn about corporate finance.
Start Course Now