Power Protection Schemes
This free online course will teach you the systems and designs applied to protect cables, transformers and generators.
Publisher:

NPTEL
A power protection scheme is needed to keep a power system stable. This course will teach you the carrier-aided schemes used to protect transmission lines, auto-reclosing and the synchronising schemes employed for clearing faults. You will also study the systems used in protecting transformers and generators. Protecting these key components of a power system is essential and this knowledge is a crucial addition to your profile.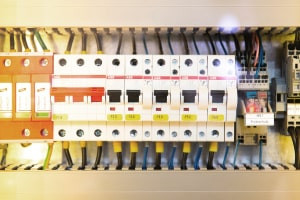 Duration

1.5-3 Hours

Accreditation

CPD
Description
The protection of the pivotal components of a power system network consists of transmission lines, transformers and generators. The safety of these elements from faults is critical to ensure the stability of the power system network. It also guarantees a stable power supply and prevents damage to the components, which can occur due to faults in the power system. This course will help you acquire all the necessary skills and knowledge required for their protection. First, you will study the carrier-aided schemes used to protect transmission lines. Then you will learn auto-reclosing and synchronising schemes used for restoring power connection after fault clearance. We introduce the three types of transmission line protection: current-based, distance relaying and pilot protection schemes. Moreover, we will explore the wire pilot relaying scheme, phase comparison scheme and carrier blocking schemes. We follow this with detailed explanations of the carrier-aided transfer tripping schemes, consisting of underreach and overreach transfer tripping schemes.
Next, you will study the designs used to shield transformers from the various types of faults. Three types of faults (incipient faults, internal faults and external faults) affect transformers. We examine these in detail, together with the power protection schemes used to safeguard transformers against them and the six factors for transformer protection. After that, we teach you how to protect generators, which are the most expensive power plant components. You will investigate the different types of protection and how they work. These include differential protection, stator ground fault protection, rotor earth fault protection, field winding protection and many more. Finally, you will study the concept of reverse power protection and the effect of power reversal on turbine prime movers.
The protection of the critical components of a power system network is paramount in ensuring the stability and reliability of a power system, thereby minimising power outages. It also ensures that the components, consisting of power lines, transformers, and generators, are safeguarded against potential damage that would cost power utility companies vast sums of money to repair or replace. Besides, power protection prevents potential harm to personnel and saves lives. This course will benefit professionals in power system networks seeking to refresh or expand their knowledge base, as well as anyone considering a career in the field of power systems protection. Start this course today and grow your skills and knowledge in power systems protection.
Start Course Now