Performance Measurement for Small Businesses
Learn how to use KPIs as effective tools for business process management and improvement in this free online course.
Publisher:

Ross Maynard
In this course, you will examine the challenges and importance of performance measurement. You will study the four main sections of key performance indicators (KPIs) for businesses, and the five steps for monitoring and analysing performance. By completing this free online course, you will be able to determine the KPIs that will help you develop effective systems for improving and managing your business. Enrol now!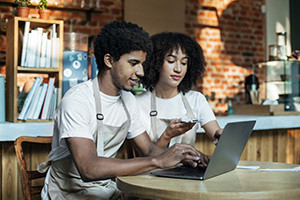 Duration

1.5-3 Hours

Accreditation

CPD
Description
Key performance indicators (KPIs) refer to measurable values that determine how effectively a company is achieving its main business objectives. KPIs offer the basis for functional improvements, create an analytical system for making decisions, and help the company concentrate on what matters most. High-level KPIs may consider the business performance while low-level KPIs may deal with the departmental processes, including human resources, marketing, sales and support. As such, performance measurement provides a framework that guides business managers through the complexities and unknowns of a constantly changing business environment. In this free online course, you will be shown the time series model for presenting performance data. Likewise, the common reasons for performance measurement, as well as the benefits of the system to small and medium scale enterprises (SMEs) will be discussed. In addition, 12 KPIs of customer performance for SMEs (also known as customer-focused KPIs), and six KPIs of operational performance designed for SMEs, will be presented.
Next, you will learn how the number of active customers, sales per hour and delivery performance affect recent customer activity, sales metrics, customer experience and more. Likewise, you will study employee KPIs to determine how a company can effectively build a team of engaged and productive personnel who manage customers. Discover how measuring the employee turnover, skills matrix performance and involvement in improvement teams can impact the performance, skills and competence levels of the workforce. Moreover, robust and efficient business processes operated by engaged and motivated employees are essential to creating satisfied and profitable customers who remain loyal to the organisation. Learn about end-to-end flow time, first-pass quality, inventory turnover and how they can be harnessed for improved process efficiency, product and services quality standardisation, and stock management. Then, you will be shown the three major types of business inventory, and the simple mathematical models for estimating the inventory turnover, with practical examples.
Finally, the ultimate aim of all business enterprises is to make profits for the owners, and financial KPIs are often considered the most important in this regard. There are six indicators of financial performance designed for SMEs, which will be disclosed in this course. The methods for monitoring and managing performance, including the five-step system for monitoring and analysing performance data, will be discussed. Also, the six-step approach to problem solving (also known as the problem-solving tools) will be explained. Likewise, three situational case studies of the applications of KPIs in business process management for SMEs will be broken down. This course is designed for CFOs, CEOs, aspiring entrepreneurs, business owners, accountants, business managers, management students, financial managers, and those involved in any other related fields of study. By completing this course, you will be able to establish an effective system for improved data monitoring and analysis in your business process management. Sign up today.
Start Course Now