Lifeguard Training Fundamentals
This free online lifeguard training course teaches you to anticipate, recognize and manage emergencies in the water.
Publisher:

One Education
This course arms you with the knowledge and skills required to prevent and respond to any aquatic emergency in a facility or natural environment. We outline the various duties and responsibilities of a lifeguard, including making decisions, having an efficient emergency action plan and knowing the legal obligations. Understand crucial elements to prevent drownings and injuries in and around the water. This course is vital to help you save lives!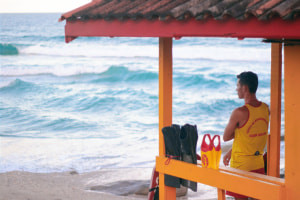 Duration

1.5-3 Hours

Accreditation

CPD
Description
Do you love to swim? Have you considered leveraging your passion for swimming to save lives? Then taking a course on lifeguarding will help you achieve your goal. Lifeguarding is a dynamic, in-demand profession. It is also exciting and rewarding and comes with great responsibility. A lifeguard is a rescuer who supervizes the safety of swimmers, surfers and other water sports participants in a swimming pool, water park, beach, river or lake. Some lifeguards are trained in advanced treatments like CPR/AED first aid and certified in using a variety of aids and equipment like oxygen or defibrillators and personal watercraft. We will introduce you to the duties and responsibilities of a lifeguard. We will show you how to assess the danger, identify the hazards in an aquatic facility and reduce the associated risks. You will then learn how quick response times and an effective emergency action plan can save lives and prevent injuries around water enthusiasts.
Lifeguard observation is a tool to provide information to the lifeguard to advance their lifeguarding skills further and contribute to a safe and fun aquatic experience. In this light, we will show you how to recognize 'distress drowning' and prevent the process of drowning. You will gain insight into the importance of constant supervision, risk management, communication and conflict management. Discover the assistance methods and safety and rescue techniques used in different situations like accidents or natural disasters (tornadoes, high winds, heavy rain, thunderstorms and lightning). Upon that, we will introduce you to in-water rescues, unconscious protocols and spinal immobilization. We then explain how to provide care for breathing and cardiac emergencies, injuries and sudden illnesses until emergency medical services (EMS) personnel take over. Finally, we explore the different legal considerations you should consider while planning emergency actions or decision-making.
Lifeguarding can be more than just a summer job. We require lifeguards for many reasons. Imagine you are on vacation at a destination with a hotel pool, waterpark, beach or on a cruise liner. The lifeguard career path could take you to new and exciting heights in places like these. New parents can also benefit from a lifesaving course. Why not learn a new skill that will give you complete peace of mind when you are with your children at the beach or just the local swimming pool? Lives will be safer around you thanks to the skills studied in this course such as first aid, CPR and the dos and don'ts that apply in the event of a head, back or spine injury and bleeding. If you have prior training, such as treading water and performing a surface dive, and are interested in kickstarting your lifeguarding career or furthering it with new concepts and education, enrol in this course and start an exhilarating and rewarding career.
Start Course Now