Italian Language Studies - Intermediate
Become an 'italiano vero' - a true Italian - by studying the Italian language with this free online language course.
Publisher:

PRONTO!
This course follows 'Italian Language Studies – Introduction', which is also on Alison. It looks at different subjects and vocabulary regarding Italian culture at an intermediate level. It also goes into detail about grammar rules that will help you start speaking and writing accurately in Italian. You will follow along while the teacher reads complex texts and translates them to English. Progress to a more advanced level by enrolling today!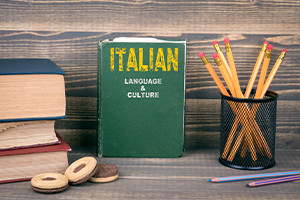 Duration

3-4 Hours

Accreditation

CPD
Description
In this course, you will learn grammar rules regarding nouns, such as how to change them from the singular to the plural form, whether they are masculine or feminine. You can then use this new vocabulary to build phrases and sentences properly. Following this, you will learn about numbers and time, such as counting from zero to more than one million and learning how to tell and ask for the date in Italian plus relevant texts referencing historical dates. 
There are a variety of elaborate texts that the teacher reads and explains on interesting subjects such as: 'il corpo' (the body), 'il cibo' (food), 'le professioni' (jobs), 'i colori e i vestiti' (colours and fashion), 'parlare degli altri' (learn to speak about different people, describing their physical characteristics) and finally 'cosa ti piace e non ti piace fare' (learn to tell and ask what you like and what you don't like to do). With this, a new lexicon is presented to you to learn and study after watching the video lessons.
Why learn a new language? The Italian language is one of the most studied languages in the world. Students are fascinated by the musicality and sweetness of its words. Italy has one of the biggest and most relevant contributions to the world through its cultural heritage in art and science. Italian brands in fashion, the automobile industry and food are famously known because of their excellent quality. In this course, you will study interesting texts on these subjects to learn more details about this beautiful country.
You will also be able to complete numerous exercises with feedback on each question and assignment. Each lesson is taught by a native Italian teacher - Beatrice, Bianca or Sara - in both Italian and English. Why delay? Start your journey to become an Italian speaker and enrol today!
Start Course Now