Fundamentals of Computer-Aided Design
Learn the step-by-step basics of Computer-Aided Design to create 2D and 3D objects with this free online course.
Publisher:

One Education
Computer-Aided Design (CAD) helps engineers, architects, and construction managers to create a design in 2D and 3D, visualizing the construction and replacing the manual drawing. This free online course introduces you to the general features of CAD, the user interface and some tools for modifying shapes in two dimensions. Discover the advantages of using CAD in product design and the parameters in the civil drawing. Start learning today!.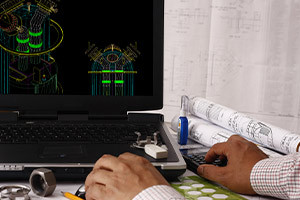 Duration

3-4 Hours

Accreditation

CPD
Description
Before the advancement in technology, architect and civil engineers used to sketch blueprints by hand, which consumed a lot of time and made editing difficult. Today, engineers and architects use Computer-Aided Design (CAD) to produce 2D or 3D blueprints and floor plans to visualize how the building, bridges, car or aircraft parts will look like before any work commences. Have you ever wondered what components go into building construction or car manufacturing? This free exciting online course will teach you practical skills to design 2D and 3D plans, develop technical drawings and gain a good understanding of solid and fluid mechanic terms and laws. Discover the general features of CAD design, advantages of using CAD in product design and a step-by-step guide on 3d wireframe modelling.
Next, you will learn to manipulate objects to modify their visual appearance and use mouse gestures to control and view drawings. Then, study the features of several workbenches such as the Drawing Workbenches, Part Workbenches and Raytracing Workbenches to create and modify existing objects. Acquire the skills to perform extrusion and rotation operations, then delve deeper into defining the length of extrusion and the various types of bounds. Discover several types of a blend like Chamfer, rounding and variable-radius rounding, the commands used in transforming geometry and learn to apply constraints to your assemblies. Also, examine the characteristics of the mechatronics simulation of a vending machine.
Computer-Aided Design (CAD) involves the use of computers to help architects, civil engineers, mechanical and electrical engineers in the development, modification and optimization of designs. It enables engineers to make more accurate representations and visualize their imaginations in 3D drawings. CAD gives you the ability to view objects from any angle and test them by simulating real-world conditions. Today, CAD touches various areas of our everyday life, from industrial products, aerospace, electronics, manufacturing and so forth. This course will help you acquire the skills you need to fast track your career in this rewarding engineering field. Architectural engineers, civil engineers, electrical engineers and beginners in designing 3D objects will find this course beneficial. Start your learning journey today and gain a competitive edge!
Start Course Now