Diploma in Marketing Essentials
Master effective marketing techniques and global sales management by taking this free online course.
Publisher:

NPTEL
In this free online course, you will learn how to satisfy customer needs through the marketing mix. The vital ingredients needed for effective marketing management will be highlighted and you will examine key elements such as global trade strategies, modern techniques for sales forecasting, market segmentation and customer acquisition. By completing this course, you will learn to become more productive as a marketing or sales manager.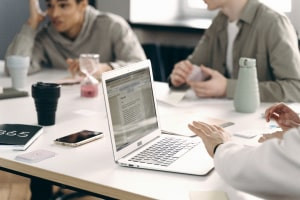 Duration

10-15 Hours

Accreditation

CPD
Description
The emergence of a largely borderless economic world has brought about new realities in global business transactions. This marketing course outlines the definitions of marketing as proposed by the American Marketing Association (AMA) and considers why marketing is a vital ingredient in modern global economic development. You will discover how society and stakeholders can enjoy the benefits of marketing. Likewise, the keys for achieving the dual objectives of buyers' needs discovery and customer satisfaction will be outlined. Discern how to satisfy customer needs through the four key elements in the controllable marketing mix (also known as the "4 P's of customer satisfaction"). Then, learn how to create better customer value and relationships through efficient marketing management techniques. You will discover how to develop successful organizational and marketing strategies, and how to recognize the structures of modern organizations, including their foundation, direction and purpose of establishment. You will then study how to track strategic performances via marketing analytics.
Next, you will study the major trends that significantly affect world trade and global marketing, including economic protectionism and the emergence of a networked global marketspace. You will see how an increase in economic integration aids free trade amongst countries, which is supported by the use of pan-European marketing strategies that promote abundant trade opportunities amongst member countries of the European Union. Similarly, you will discover how the formation of the North American Free Trade Agreement (NAFTA) has stimulated business and investment growth between Canada, United States and Mexico. You will examine the three types of global enterprises and how to distinguish them through their orientation and strategies for international business. You will see why the competition amongst cross-border enterprises focus on the identification and pursuit of consumer groups that share similar traits and demand for products. Then, cultural factors, like international diplomacy and commerce, as well as cultural symbols and customs through which global enterprises scan their business environments will be discussed. Furthermore, factors like consumer income and purchasing power, political stability and trade regulations, which determine the economic infrastructures of a country, will be highlighted.
Finally, you will examine several global market-entry strategies, including licensing, joint venture and direct investments, as well as the benefits and drawbacks of each method. Then, seven important methods for crafting a successful worldwide marketing programme will be uncovered. You will also study the five marketing research processes which help you to identify marketing problems and opportunities, systematically analyze the collected data and recommend accurate marketing actions that bring results. You will learn three sales forecasting techniques as well as market segmentation strategies for product differentiation and customer acquisition. Additionally, you will be shown how you can apply the market-product grid frameworks when segmenting a market. The vital steps and correct strategies for reaching a target market will be elucidated. The course includes the approaches and perpetual maps for positioning and repositioning products in the minds of potential customers. You will dissect products and services to properly identify the four unique elements (also known as the "4 I's of service") that differentiate them. Also, the important levels in the customer-value hierarchy, and the comprehensive models for commodities classification and service quality assessments will be presented. You will discover new product development concepts and processes, as well as the organizational and marketing reasons that make new products flop. What is needed for marketing to occur? Who buys what is marketed? This course will examine these questions and consider the facts that surround them. Whether you are a procurement manager, business consultant or sales analyst, by completing this course, you will have the rare and sought-after technical knowledge that is sure to enhance your productivity. So why wait? Start this course today!
Start Course Now