Diploma in Construction Safety
Learn the essential safety skills for preventing fatalities in construction work, in this free online course.
Publisher:

NPTEL
The growing demand for buildings is resulting in an increase in the demand for professionals skilled in construction and safety. This free course will introduce the general concepts of safety in construction and then delve into the major causes of fatality - fall hazards in construction work, cave-ins, and other dangers in trenches and tunnels. You will learn the standard guidelines for safety against these hazards in this diploma course.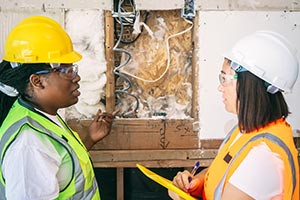 Duration

10-15 Hours

Accreditation

CPD
Description
This free diploma course in Construction Safety will start with an overview of the concepts of safety in the construction industry. It will provide an introduction to hazards and dangers workers face on construction sites and the guidelines for establishing safety systems so that the risks of dangers are prevented or minimized. In the first part of the course, you will learn about safety standards, signs and signals, and the brief history of how the International Standards or Acts came into existence. You will also learn about the roles key stakeholders play in establishing and maintaining functional safety systems in construction projects.
The second part of the course will focus on Fall hazards and other major causes of fatality on construction sites. You will learn the anatomy of falls and how these falls can be prevented through Fall Restrain Systems and Fall Arrest Systems. There are different types of hazards associated with concreting and demolition work, and here, the specific precautionary measures and processes against these hazards will be discussed. Next, you will learn about Trenches and Tunnel safety. The dangers associated with excavation work and safety procedures will be explained as well as the proper handling of equipment. Finally, you will be introduced to tunnel construction, the different methodologies available for building tunnels, and the safety systems that need to be set up and functioning properly to ensure that the work is executed safely.  
Innovative designs and technology are increasing the complexities of building structures, and indirectly increasing the risks of danger in construction work, hence the emphasis on safety. Construction professionals and those entering this field need to prove competencies in technical construction skills as well as competency in safety. This free online course will teach you the vital safety skills you need, so start this course today!
Start Course Now