Body Language in the Work Place
Learn how to present yourself in the workplace through body language and nonverbal skills with this free online course.
Publisher:

TJ Walker
Body language can refer to anything from facial expressions to the position of your feet and it is especially important for effective communication. Humans are programmed to pick up nonverbal cues such as a frown, a different intonation of your voice or crossed arms. This free online body language course will teach you how to be your best and most confident self to help you get the most out of everyday situations, especially in the workplace.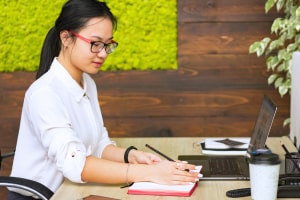 Duration

1.5-3 Hours

Accreditation

CPD
Description
When you present information and ideas there are two types of communication at work, verbal and nonverbal. In this body language course, you will be introduced to the nonverbal side of communication. More specifically, you will learn about the basics of workplace body language from TJ Walker, an expert on these skills. You will familiarize yourself with video conferencing and its growing importance in the modern office and then some of the mistakes people can often make as soon as they walk into a room, and how to avoid them. Good body language and what it can mean for you and your career when done correctly will be discussed, and then a very popular question is answered: what are the most commonly shared tips and myths of body language? This course will cover the biggest myths and explain how they are misleading. You will also study what you should be doing with your hands during a presentation to ensure that your audience stays focused on what you have to share.
You will explore what's needed to become proficient at presenting yourself on camera, whether it's in the office or a professional TV studio including where you should direct your eyes, how you should position your body and where you should rest your feet if standing. You may find yourself seated when speaking, whether it's on or off-camera, so you will also learn where to lay your arms and hold your body in this situation. A variety of different situations that could be experienced in the workplace will be discussed, from presentations that include a PowerPoint, to keynote speeches that are attended by larger crowds. When preparing for these events, how do you usually practise what you are going to say? You will be introduced to a variety of methods and techniques to practice, how effective each one is and which ones you should avoid. You will finish by learning about a wide range of individual body language topics applicable at the workplace, across all fields. The key themes are reading from a teleprompter, the dos and don'ts of networking events, greetings and handshakes, and the importance of bringing a friend to your events, also known as a "friendly spotter". 
Throughout this course, you will form a solid understanding of how to present yourself in the office so that you appear natural, relaxed and confident in your own skin. From talking with your colleagues, with your boss or perhaps even at stakeholder meetings, this body language course will take you from awkward to awesome in a matter of hours!
Start Course Now