Advancements in Food Processing and Nanotechnology
Learn about the process of preserving food products using nano-based additives with this free online course.
Publisher:

NPTEL
This free online course discusses the role of nanotechnology in food processing and the various advancements in this field. You will learn about the applications of nanomaterials and steps needed when they are used in the food industry. Concepts discussed in this food processing course are "Green Nanotechnology" and the role of good governance and policies for effective nanotechnology development.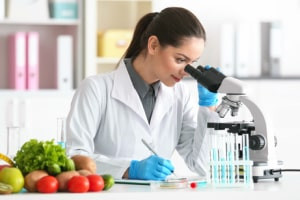 Duration

1.5-3 Hours

Accreditation

CPD
Description
Nanotechnology has universal applications across many fields of study and is used to produce and enhance many everyday products. This free online course introduces you to the role nanotechnology plays in food processing and various food products as well as the advancements that have been made. Specific nanomaterials used in the food sector and how they are utilized in food packaging will be covered as well as the nanoformulation in the food fortification process.
As you move through the course content, it will demonstrate the role of nanotechnologies in ensuring good water quality and the need for multifunctional sustainable green materials. The next part of the course focuses on Titanium Dioxide and how it is used as a coating material for vehicles, in the production of hydrogen using solar energy, as desensitized solar cells and in Agriculture. The principles of Multifunctionality, Sustainability and Non-permanency and the role they play in the progress of this field are also discussed. 
Food technology and processing and how they are advancing is in many ways thanks to nanotechnology and the applications of nanomaterials. This Nanotechnology in Food Processing and Advancements free online course is the perfect fit for students, researchers and people employed in the industries of food technology, food production, Agriculture, food packaging and food processing and those interested in expanding their knowledge on nanotechnology. Fine-tune your skills and enrol today.
Start Course Now