Diploma in Python for Beginners
Learn how to use Python 3's graphic user interface (GUI) and command-line interface (CLI) in this free online course.
Publisher:

Learning While Practicing
If you want to design applications but have no prior expertise, this free online Python course will teach you the fundamentals, before moving on to more advanced topics. Some of what you will learn are the principles of Python programming, its command-line interface, incorporating graphic components into your programs and practical demonstrations that explains the vast applications of this popular, versatile programming language.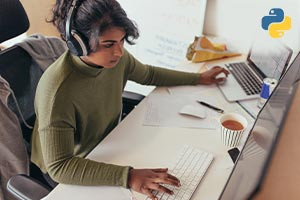 Duration

6-10 Hours

Accreditation

CPD
Description
Python is a robust programming language that is in high demand. It has the tools and the resources to bring any concept to life. This python crash course will help you get started with Python even if you have no prior experience. It starts by showing how to set up Python 3 and the PyCharm Python IDE (Integrated Development Environment) and you will create your first program after you have completed the installation. Some fundamental programming principles you will get familiar with is how to store data in variables, use functions to do certain tasks, and make decisions using conditional expressions.
The next section illustrates the concepts that make Python an object-oriented programming language and here you will begin to master how to add graphical elements to your applications, including how to add buttons and pop-up menus. Then, you will study the concept of data structures and learn how best to organize, manage, and store data, allowing for efficient access and modification. The final section deals with the concept of recursion and when it is applicable in the Python programming environment.
This Python for Beginners free online course will benefit anyone hoping to learn and apply this popular coding language, including app development and creating beautiful graphical user interfaces.
Start Course Now