This free online course in Python Fundamentals can be of great benefit to you and your career because of Python's popularity. Python is widely used by programmers because it is extremely fast and reliable and this course will give you more insight into Python through theory, practical demonstrations alongside case studies. By the end of this course, you should understand the standards, features and fundamentals of Python language.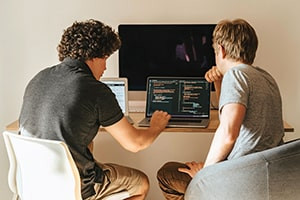 Duration

10-15 Hours

Accreditation

CPD
Description
Computer and software programming is a critical skill in the modern era and since 2003, Python has consistently ranked in the top ten most popular programming languages in the TIOBE Programming Community Index. Python is still the third most popular programming language in the world (behind Java, and C) and is commonly used because of its vast applications. This Python Fundamentals free online programming language course will teach you the uses, applications, variables and features of Python and the various fundamental data types with their definitions.
You will then move on to some more technical elements and learn Python characteristics, the programming Syntax and Imports implications and how these apply to Python's specific Sets and Tuples. Another important discussion point is that of class inheritance in the context of object-based programming and at the end of this course, you will be able to define and discuss this topic comprehensively. 'Modules' are used in Python in order to logically organise the code and this is further enhanced by being able to group related code which makes it easier to understand and use. These Python 'modules' are covered extensively in this introductory Python course as well as how to define your own Types known as Classes. 

Aspiring programmers or programmers who need to add Python to their programming and coding language skill set will greatly benefit from this Python Fundamentals free online course because it not only covers the basics, but it also provides an in-depth study of some of the most important components and how to use them. With game-changing platforms such as Django and Pycharm both based on Python - taking this Python Fundamentals course will no-doubt elevate your programming skills.
Start Course Now