WebVR Programming Using A -Frame Framework
This free online course will equip you with the knowledge required to create virtual reality on the web using A-Frame.
Publisher:

Sonar Systems
We have designed this course on WebVR Programming using the A-Frame framework to equip you with firsthand skills and knowledge required to develop virtual reality websites. This course will teach you how to set up an A-Frame to create a virtual reality website. Drawing a box and applying texture and lighting are some of the defined skills. Also, learn how to load models, images, videos, and objects to the scene, enhancing the users' experience.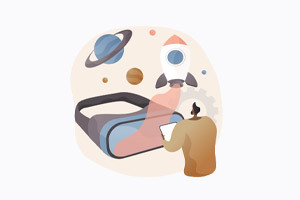 Duration

1.5-3 Hours

Accreditation

CPD
Description
Virtual reality encounters are becoming increasingly relevant, not only for entertainment purposes but for real-life simulations that help in education and training. This WebVR Programming Using A-Frame Framework course will support web developers and anyone willing to learn virtual reality development to create a virtual reality website for mobile phones. This course begins with an introduction to the A-Frame. Discover how to set up the A-Frame scene for VR development, build a box, and the three types of transformation: positioning, rotating and scaling objects on the scene. Learn how to set the box position on the scene, rotate and scale it to fit in it, and apply textures to make it look far more realistic. Next, we will show you how to add animations to the box on the scene and make the box interact with the scene. Investigate how to apply lighting to the object and implement the skybox effect to make the scene look more realistic.
This course will teach you the importance of loading models from an external source and shows you how to load models into the A-Frame scene. Next, you will learn the various methods of loading images and videos into the background. Then, we will introduce you to the video sphere and explain how to implement the video sphere into a scene before letting you investigate how to draw plane objects and implement 2D plane objects into the A-frame scene. Finally, we will show you how to load different things into the A-Frame scene.
WebVR is an open specification that makes it possible to experience virtual reality in your browser. The primary purpose of WebVR is to enable applications to interact with virtual reality devices or to allow browsers to interact with virtual reality devices. This course on Alison will equip you with first-hand knowledge of WebVR development using the A-Frame framework. Learn how to set up an A-frame framework, build and transform objects, apply animations and lighting to the scene, load models and images, and finally load videos to the A-Frame scene. If you enjoy dabbling in the world of virtual reality, this course will inspire you. Gain a new skill today and register for the course today!
Start Course Now