Six Traits of Executive You
How do you move from being a middle manager to being a high-powered executive? Take this leadership course to find out.
Publisher:

Executive Finance
This executive training course teaches you how to move from a managerial to an executive mindset. We study the key traits of a successful executive and what sets them apart from the rest. We show you how to acquire the confidence, ambition and strategic influencing skills of a successful leader as you learn how to elevate your level of personal presence to deliver information as a true executive would.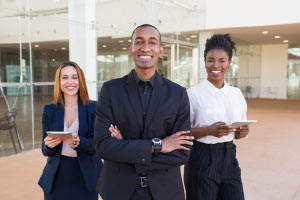 Duration

3-4 Hours

Accreditation

CPD
Description
This leadership course lays out the six key traits of a successful executive and explains what sets such a leadership strategy apart from the competition. It is designed to boost the confidence, ambition and strategic influencing skills of high-potential professionals in business. We show you how to communicate with precision, clarity and persuasion to convey important financial insights.
The material begins by defining 'executive leadership presence' and establishing its importance. We explain the difference between management, leadership strategy and social power, and identify the benefits of 'power posing'. We then take you through the five-step approach to developing a personal brand and demonstrate how to build and maintain strong relationships, a skill you can use in your personal and professional life.
In modern finance, it is more important than ever to have the right skills and qualities to excel. Developing these six traits is a crucial step in moving your career forward and gaining the presence that makes you effective as an executive. Sign up for this course to master the leadership principles you need to move from managerial to executive thinking and your career will soon follow.
Start Course Now