Organizational Behavior and Management
Master the fundamentals of organizational behaviour and gain valuable management skills with this free online course.
Publisher:

Saylor Academy
Take a leadership track at work and stand out as you acquire proven organizational behaviour techniques in this free online management course. We can help you understand the people who make up your professional environment and the motivations behind their actions. The leadership methods we provide are recognized and widely employed by top business people in high-paying management positions so sign up today to walk in their footsteps.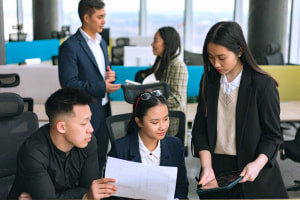 Duration

3-4 Hours

Accreditation

CPD
Description
Let's start with the basics: what is an organization? It is a collection of individuals gathered in an ever-changing environment in order to achieve a common specific goal. In this management course, We explain how business organizations function, focusing on how each of its members contributes towards the success of the company. We demonstrate the importance of understanding what drives individual behaviour before we can appreciate how they interact with and make up organizations.
This free online course draws on psychological and sociological principles to focus on individuals to explain organizational behaviour. These sciences are established fields and we cite them to examine the internal workings of large groups of professionals. We delve into the history and emerging trends of organizational study before identifying the micro-level factors that define our understanding of the field. We map the connections between this field and other sciences and demonstrate accepted research methodology. How does an organization's culture affect its success? We break down contemporary trends in the consideration of such behaviour and consider the reasoning behind them. How can you become responsible for your own engagement with your company? We answer such questions throughout the course to ground your new theoretical understanding in practical examples.
We then analyze the motivation behind your colleague's actions to help you understand them. This section investigates the role of cultural and personal differences in creating a constructive work environment. We establish the importance of perception, which we also cover elsewhere in this course, and consider how personalities develop to show you how your business can benefit from diversity and individual differences. All this study of character is linked to managerial principles as we demonstrate how to improve your organization's culture to become a better manager. We outline several theories that guide internal leadership selection and emphasize the crucial role of diversity in terms of gender, race and culture. This course suits small business owners building new organizations or anyone working at a large firm who wants to understand it in order to move up.
Start Course Now