In this free online course, you will be shown how to perform some operations on your presentation content using PowerPoint 2016. The course will provide practical lessons on how to modify some popular objects like charts and tables, as well as the steps to take in preparing your final work for the presentation. Whether as a newbie or an old-timer, the knowledge here will prove invaluable, so start your learning journey right away.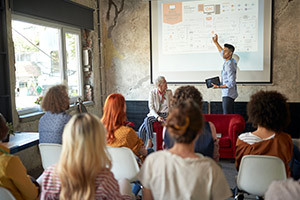 Duration

4-5 Hours

Accreditation

CPD
Description
This free online course on Microsoft PowerPoint was created with the aim of educating the learner about the use and capabilities of the Microsoft PowerPoint 2016 program in developing presentations. It begins with an introductory module to PowerPoint 2016 where you will be shown how to set up the Microsoft PowerPoint program for easy access and some of the key areas of the PowerPoint 2016 environment, as well as how to navigate the environment. The first section will also highlight some of the basic edit operations that can be performed using the PowerPoint 2016 program. Without formatting, the texts in your presentation are bound to appear flat. Care to find out what to do in order to avoid that? This course will discuss some of these processes, as well as provide general rules for formatting your texts and other advanced editing operations. Graphical elements often lend a greater appeal to your presentations. In this course you will learn how to add graphic elements like images and shapes to your presentations, offering you multiple ways to support your presentation content with suitable graphics.
The second section of this course will take you through the processes of modifying objects in your presentations. Handling numerical data in presentations is one very important aspect of creating presentations. If you are to present financial budgets, statistical data or any figure-dense presentation content, how would you rather compile these data types into a presentation that will appeal to your audience? This section of the course will show you how to apply the two most commonly used elements of displaying and conveying contents of numerical nature. You will learn how tables and charts can be engagingly and adequately applied to your presentations. To do this, you will be taught how to insert and format tables and charts. The final part of this course will teach you how to prepare your course for presentation. After developing your slides and in order to deliver the best presentation experience that you can to your audience, there are preparatory steps and processes that you might want to go through to achieve that. This will show you how to effectively review your work before presentation, as well as provide you with guidance on how to export your presentation successfully.
Microsoft PowerPoint is one of the most powerful presentation tools in the market today and is used to deliver virtually almost every type of presentation that you can think of. The tool has been designed to provide users with the capabilities required to develop and deliver textual, numerical, graphical and even audio-based presentation content to a T. That said, some of its capabilities and functionalities are still relatively unknown even to some of the people that use it very often. This course has been designed with the intent to bring to the learner a fundamental understanding and practicability of the functions of the Microsoft PowerPoint tool, using the 2016 version for illustrations. You will be introduced to the tool, learn some basic-level operations on editing and adding elements, as well as the processes of modifying objects like charts and tables effectively. Lastly, you will be shown how to review your work, add transitions, add animations, and other finishing touches before presenting to an audience. The course will prove invaluable to both new and old users of the tool as the information contained is both fundamental and advanced. So, why not begin your learning journey with us today?
Start Course Now