Introduction to Decision Making
Avoid making bad decisions by taking this free online course, which will help you nail the decision-making process..
Publisher:

Saylor Academy
This free online course covers the basic decision types, tools, methods and insights. This course will help you understand how decision-making involves both logic and emotion. This course will equip you with practical tools to quickly determine the type of decision you are trying to make and know which tools and methods to use. The knowledge gained from this course will also help you engage better your teams during the decision-making process.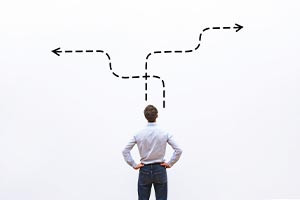 Duration

1.5-3 Hours

Accreditation

CPD
Description
A central part of managing an organization, process, or project is decision-making. Decision-making is often characterized as both an art and a science. It's normal to want to trust your instincts, but you'll also want to approach your decisions more methodically when you can. This course covers the basics of decision-making, including an overview of various approaches, considerations, and challenges. The first section of this course is titled "Understanding Decision-Making". We will define decision-making and provide a list of ethical questions you should ask yourself when making a critical decision. We will also have detailed discussions of different types of decisions and when to employ various approaches in decision-making. In addition to this, you will learn how to determine which decision-making process is the appropriate one for any given situation.
Section two, titled "Faulty Decision-Making", addresses some of the obstacles you may encounter during the decision-making process. More often than not, managers face challenges when they have to make decisions. These obstacles often arise from the biases of other people and can negatively impact the decision-making process. We will also discuss some commonly expressed biases and how to avoid letting them undermine your decision-making process. In the third section, "Decision-Making in Groups", we will explore the effects of groupthink on the decision-making process. We will provide you with a compare-and-contrast outline for individual decision-making and group decision-making. You will have to pay careful attention to the pros and cons of each scenario, and as well as the respective techniques associated with them. You will very quickly learn why groupthink is not a healthy habit for a manager or an organization. The fourth section is all about Making Great Decisions. By this point, you would have gained basic knowledge in decision making, so now think about the questions that you typically ask yourself when making decisions. When you make a decision, do you believe that there is always just one route to your desired outcome?
In the fifth section, titled How to Make Better Decisions, we will follow a practical approach by considering the types of decisions you have made in the past. Can you determine, in retrospect, which types of decisions they were? We will look at a decision you are currently considering and write a plan about resolving it. You will very soon see whether your decision-making plan matches the steps outlined in this course. If not, we'll help you recalibrate your plan to accommodate the ten steps so that you can ensure your decision-making process will be effective? The sixth and final section of the course is all about decision-making in the areas within an organization. Are the decision-making topics in your organization (or one you are familiar with) the same as those addressed in the McKinsey survey? Do decisions typically meet expectations within your organization? Do you find that decisions made within your organization are more effective when the process includes employees carrying out the implementation of decisions? Suppose you're grappling with the logic behind decision-making or would like to take more methodical decisions in your organization. In that case, it will be the right decision to sign up for this course. Why wait? Enrol now to make more confident decisions in the future.
Start Course Now