Introduction to Arabic Letters
This free online course will allow you to learn how to write and read basic Arabic letters correctly.
Publisher:

Muhammad Elshanawy
Did you know that Arabic is the fifth most commonly used language, spoken by nearly 422 million people? Arabic is the primary language in more than 20 countries. On that basis, it is the world's third most spoken language, trailing only English and French. With all of this in mind, it is easy to see why there is a growing need to learn Arabic. Begin your journey by mastering the Arabic alphabet and basic Arabic letters introduced in this course.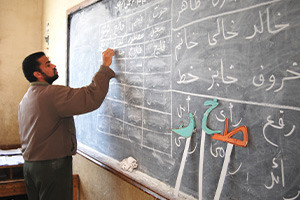 Duration

1.5-3 Hours

Accreditation

CPD
Description
This course aims to introduce you to the Arabic alphabet. It starts with presenting how to write all 28 Arabic letters, the name of the letter, and the letter's pronunciation. You will discover that the Arabic alphabet is always cursive, and letters vary in shape depending on their position within a word. We will explain the connection of certain letters is only with their preceding ones. Next, you will comprehend that in Arabic, there are dashes and symbols above or below the Arabic letters called signs. These signs could be vowels, anti-vowels or doubling Arabic letter signs.
The following section explains the concepts of the short vowels and the long vowels. We will highlight the importance of pronouncing the word well. Next, you will discover the long vowels or extended letters sound the same as short vowels, only extended more. Also, you will comprehend the differences between Secoon, Shadah, and Tanween.
The final section shows how letter shapes change depending on where they are in the word. You'll look at the four different letters that represent an initial, middle, or final. Lastly, we will explain the first letter in the Arabic language, the letter 'Alef'. You will discover how it sounds like the letter A in English and linked to its preceding letter. Explore the basics of the Arabic alphabet and learn to write and pronounce Arabic letters.
Start Course Now