Information Management: Strategy and Data Protection
Learn about the concept of information management as well as its benefit and application in this free online course.
Publisher:

One Education
With the volume of information available at our fingertips, one could wonder, why manage information? You will explore the principles of information management used in managing information. We will show you how creators and inventors can protect their hard-earned creative inventions, ideas and work. Also, Database management, different management systems, data protection regulation and how computers process data will be covered in this course.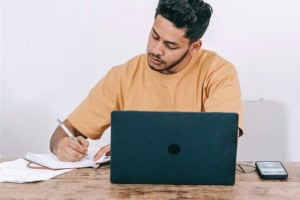 Duration

1.5-3 Hours

Accreditation

CPD
Description
It is popularly said that 'information is power'. The planning, organizing, structuring, processing, regulating, evaluating, and reporting of information activities are all encompassed underneath the umbrella of information management. It is ideal to say you're reading about this course because you're seeking information about something. By studying this course, you will be taught the concept of information management and the strategies employed to manage information. Are you an employee in an organisation but don't know how to manage information to facilitate and improve organisational performance? We will show you how to utilize information to improve organisational performance, the forms of information, the difference between data and information and the lifecycles of information. Information governance empowers an organisation to efficiently achieve its objectives. An organisation's information governance is the backbone of its strategy for information management. Discover in detail what information governance is and use it to implement the goal of an organization.
The value of information depends on its importance to an individual or society. You will learn how to measure the importance of information in the modern world using three coined terms to highlight the importance of information. You'll be taught the characteristics of information that will determine its importance in any market as well as taught what computerised or manual information system entails. Additionally, you will learn how to distinguish between information and knowledge and how information is processed. Keeping records in an organisation is essential because it can serve as evidence for legal purposes and/or in business transactions. For records to be kept, stored and maintained, information must be created and received from a source. Learners will gain an understanding of the concept of record management and how information can affect decision-making. Upon that, you will discover stages involved in developing and implementing any kind of strategy that can be used in the management of information.
Much like fire and smoke, when information is being discussed, it is unlikely for computer systems to be left out. Whenever we operate our personal computers and other similar devices, we seem to neglect the fact that our computers process so much information and data while we use them. This course discusses how computer systems organise and process data and information. You will be taught about computers' processing power and the concept of data redundancy and database management. This course covers the way data is presented and perceived by end-users and the specialized data manipulating language used by database management systems to add, change and delete data in the database. You will learn about data warehouse, data mart and in-memory computing. Finally, the last part of this course will explain the five moral dimensions for the information age and the legal terms used to describe the exclusive rights given to creators and inventors for their creative inventions. This course is structured and designed for learners who want to utilize information to achieve their desired goals such as meeting business and organisation's objectives and more. Do you want to master the skill of information management and protection? Enroll and start this course today.
Start Course Now