Health and Fitness - Running Tips, Swimming and Strength Training
Learn how performing running, swimming and strength training greatly improves health and fitness levels.
Publisher:

MEDCoE
This free online health and fitness course will teach you how running, swimming and strength training exercises will greatly improve your physical fitness. Problems with sedentary lifestlyes and increasing obesity levels are of major concern to many people. The course shows you how to perform a range of exercises, and provides a range of workout routines for you to practice. Start this free online course today and start improving your health.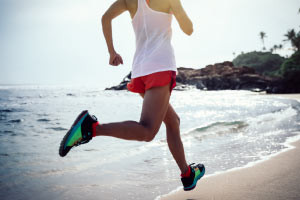 Duration

1.5-3 Hours

Accreditation

CPD
Description
In this course, you will learn how performing running, swimming and strength training will improve physical fitness. You will study different running workouts designed to maximize aerobic potential and develop endurance. You will learn how appropriate track and terrain training increases performance, and how sprint and hill running improves distance, time and maximum speed. The course informs you about choosing and using appropriate running gear, and you will learn about different running surfaces and about the importance of running form or gait.
Swimming is excellent exercise for overall fitness, aerobic endurance, power, strength and flexibility. You will compare the benefits of open-water versus pool swimming and learn why wet suits, fins and other swimming gear is worn. There are a range of interval workouts presented, with details on work-rest ratios, pace, distance and repetition, for aerobic and anaerobic training sessions.
The course then introduces you to the principles of muscle strength and endurance training, through the use of weight equipment. Optimal physical fitness requires muscles of the upper and lower body to be developed in a balanced way. The course informs you how to perform strength training exercises that develop full body muscular balance. You will examine warm-up and cool-down exercises and how to avoid common injuries, and you will learn about the importance of diet, nutrition and hydration before and after exercise. Start this course today and gain the knowledge and skills to greatly improve your physical fitness and well-being.
Start Course Now