Fundamentals of CorelDRAW for Tattoo Art
Master the basics and techniques of the CorelDRAW graphics program for enhanced tattoo art with this free online course.
Publisher:

Lily Lu
Are you an aspiring graphic designer or tattoo artist? Do you want to learn CorelDRAW to tap into your creativity? By taking this free online course, you will learn to use CorelDRAW, a powerful graphics application, to create expressive art and designs. This course focuses on the basics of CorelDRAW and will guide you through the techniques required to take your tattoo art to the next level. Let's get started!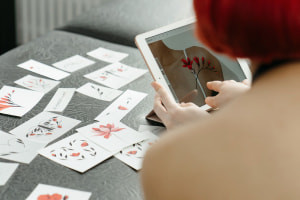 Duration

4-5 Hours

Accreditation

CPD
Description
With this free online course, you will master the essential tools, basics, and techniques to use CorelDRAW like a pro. CorelDRAW is a powerful graphics application and vector graphic software for creating great art and designs. Thanks to its user-friendly interface and multi-faceted capabilities, this graphics application is designed to help your creative process run smoothly. This course will provide a variety of tips to customize the CorelDRAW interface. You can execute various designs on CorelDRAW, from logos, flyers, complimentary cards, and other stationery. This course will show you how to get started, utilize the essential tools, apply them to your designs, and ultimately refine and improve your skills.
We have detailed and carefully structured this course with an exploration of some CorelDRAW shortcuts and touches on the primary tools in the toolbox. You will learn about the basics of CorelDRAW and get an understanding of the interface. We will also show you how to start a project from scratch. We'll explore the different colour profiles and demonstrate how to prepare CorelDRAW projects for print or designs for the web. You will also learn more about bitmaps and get to see how the tutor plays with pictures. We'll show you the ins and outs of vectors and how to vectorize from bitmaps, create custom designs by drawing, scan the design, and import it and convert it into a vector. Additionally, we will end the course by taking you through the tutor's choice of applications, settings, and how he makes excellent designs for different purposes. The course will also explain the toolbox's Pick, Shape, Crop, Curve, and Interactive tools, which are some of the essential items you will use in the design process. CorelDRAW has intelligent tools for drawing simple lines and shapes and even complex designs. We will show you how to work with text and the vast collection of fonts that you can use with CorelDRAW.
While this course is aimed at tattoo artists, it is structured and simplified for anyone interested in developing skills in graphic design. It can be particularly beneficial for aspiring graphic designers and students who would like to learn how to use the CorelDRAW graphics program. But even professionals will benefit from this course. It can serve as a refresher on certain things or help you rediscover the basics. If you are a CorelDRAW professional, you can use this course to test your knowledge about the basics. Do you want to create appealing designs? One can use CorelDRAW in the web, fashion, interior design, and many more. Sign up for this course today and improve your graphic design skills for tattoo artistry!
Start Course Now