Diploma in Digital Textuality
Learn about the evolution of how text is used alongside the development of media technologies in this free online course
Publisher:

NPTEL
This free course will study the evolution of language, narratives and representation through the history of the technologies of communication – oral, written, print and digital. It will analyze concepts of copyright, censorship, authorship and nation formation. This course will explore the arrival of mass media, blogging, the arrival of social media, internet and network giants such as Facebook, Google and Twitter.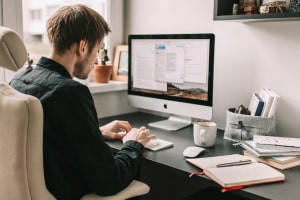 Duration

10-15 Hours

Accreditation

CPD
Description
This course will introduce learners to the history of books in Europe and how print contributed to the standardization of languages, influenced the spread of ideas, and affected the politics and economics of European societies. Also, learners will gain an understanding of colonialism, its link to capitalism and the concept of a civilizing mission. With digital media being the heart of modern communication, this course will explore the concept of Lawrence Lessig's law on digital content.
Furthermore, this course will show how printing developed in northern India and its socio-political influence on India. You will learn about the effects that the mechanical reproduction of arts has on the value attributes of art. In addition, you will be taught the effect the development of electronic media had on human society and the importance of the GNU manifesto which will help us get a snapshot of the ownership patterns of software. This course, goes on to explore the notion of free software and the protection of digital contents.
This course will teach you about content creation and the emergence of copyright, the claims and truths of copyright and the characteristics of digital reproduction. Also, learners will gain an understanding of digital media and the human mind, the power of Google, social media and its politics. You will be shown the concept of the internet, the movement of mass media to social media and the level of government control over social media. This course is important for learners who want to be equipped with a well-rounded understanding of the evolution of how text is used alongside the development of media technologies.
Start Course Now.
Start Course Now