Diploma in Business Process Management
Learn the essentials of business process management, systems design and implementation.
Free Course
Business process management is essential for making sure a company runs smoothly. This means that business process professionals are highly valuable within any major organization. This course will teach the most important elements of effective business process management. You will learn about systems analysis, systems design, and systems implementation, and will be introduced to the basic concepts of how to design and test information systems.
Take this certificate on your own.
Start now and learn at your own pace.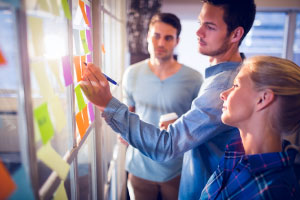 Description
Management of processes and data plays a crucial role in the success of a company. In this course, you will first be introduced to the different concepts involved in business process management, including how to describe the system output flow and users. You will then gain an understanding of the systems development life cycle, which will be an essential part of your business process management career,
The course will then teach you about the goals of systems selection. Here, you will learn what goes into systems evaluation, contract review, and implementation. You will also gain the basic knowledge of how to design, test, and implement information systems. Next, you will learn how to describe the Business Processes model and identify the difference between information and data. The course also explains in detail the concepts behind data flow diagrams and systems flowchart.
The course is perfect for businesses and for professionals who are looking to expand their understanding of business process management. This course is beginner-friendly and accessible for people with no prior background in business process management. It will also be very useful for business owners who want to learn a thing or two about best practices in business process management in order to improve their overall operations performance. So why wait? Improve your business process management skills today!
Start Course Now
h
Need Some Help?
What is business process management?
What are the best free online business process management courses?
How much does an online business process management course cost?