Anti-Money Laundering Principles
A free online course on the money laundering predicate offence and relevant anti-money laundering concepts such as KYC.
Publisher:

Financial Crime Academy
This free online course explores the effects and fundamentals of money laundering from effective techniques for preventing money laundering. Learn how to apply anti-money laundering concepts such as KYC, KYCC, and KYB in practice. Are you seeking to improve your knowledge of how AML laws can be implemented successfully in organizations? Then this course is for you. Sign up for this course today and begin your next learning journey!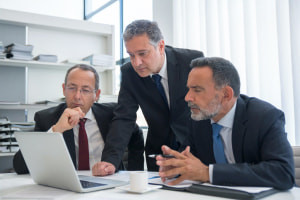 Duration

4-5 Hours

Accreditation

CPD
Description
Anti-Money Laundering Principles is a free online course that provides an in-depth understanding of the basics of money laundering. Study how money laundering can be prevented with specific and practical techniques. It is important to understand the definition of money laundering predicate offence with hands-on examples. Before analyzing the causes of money laundering, you need to recognize the anti-money laundering approaches that can be used. This course will take you through the nuts and bolts of money laundering along with the general money laundering methodology on an abstract level. You will learn about the different stages of money laundering. This course introduces you to the common understanding of the term, sources, and processes of money laundering. Have you considered the money laundering relationship and the criminal law of different countries? This course will teach you the element of money laundering and how some funds can be classified into the money-laundering category.
If you want to know how cash is packaged to other countries by money launderers with the process of layering, then you should take this course. You will be able to explain the predicate crime in a financial context and the codification of the crime. Also, this course will help you understand the stages of money laundering including the money laundering methodology that have been uncovered by law enforcement and government authorities. Do you know that 2 - 5% of the global GDP are related to money laundering? The course also analyzes common types of money laundering procedures and how the money is moved to avoid detection. You will also study how the anti-money laundry concept can be used to fight money laundering in practice. This course outlines how the laundered money behaves during the placement, layering and integration stages. By completing this course, you will be able to describe the cash business scheme process in money laundering together with the importance of anti-money laundering schemes.
Furthermore, you will learn about the anti-money laundering approach and how the AML laws can be effectively implemented. This course is designed to illustrate how the AML laws and regulations can be used to track financial activities. You will also be able to explain the consequences of not adhering to the anti-money laundering rules for organizations. Do you know there are special actions that organizations are expected to carry out to control money laundering activities? This course will help you better understand the importance of anti-money laundering concepts in controlling financial crime and the economic consequences of money laundering. Explore the consequences of non-compliance of AML laws and regulations on individuals or organizations performing global transactions. This course will be of great interest to students, researchers, and anyone with an interest in anti-money laundering concepts. Register for this course and start your next learning journey today!
Start Course Now