Acoustics: Sonic Crystals
Learn how Acoustic Sonic Crystals influence Environmental Noise in this free online course.
Publisher:

NPTEL
This free online course introduces you to Sonic Crystals and how these help control and influence environmental noise. This course will teach you about acoustic fundamentals, design principles of Sonic Crystals and the Irreducible Brillouin Zone and its Working Principles. This course will be of interest to those who enjoy the mechanical, industrial and sound engineering fields and have a passion for science, chemistry and mathematics.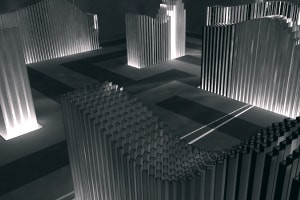 Duration

1.5-3 Hours

Accreditation

CPD
Description
This free online course on Acoustic Sonic Crystals introduces you to the study of acoustic principles and applications to help control environmental noise. The study of electromagnetic waves and acoustic waves dates back centuries. In this regard, acoustic materials which are materials that are designed to manipulate soundwaves, are of prime importance. In this course, you will learn what sonic crystals are and the difference between 1D, 2D and 3D sonic crystals. You will learn different terminologies such as what a Lattice is and how that are formed.
Next, you will be shown the difference between Real Space and Reciprocal Space and their significance. You will also learn to classify Direct and Reciprocal Lattices and you will begin with the Brillouin Zone. You will also start learning the wave Spectral Gap in periodic structures with a focus on Local Resonance and Spectral Gap in periodic structures. You will be guided through three problems and solutions to Irreducible Brillouin Zones and Local Resonance.
Finally, you will work through factors affecting the Band Gap of Sonic Crystals. You will also learn Defect Bands and the applications of Sonic Crystals. By studying this course, you will have a distinct advantage in understanding these latest materials and how they can be applied in day to day life. Undergraduates and post graduates alike, with a passion for acoustics, science and mathematics, will enjoy this course. Start this course today and be at the cutting edge of science as you learn the latest state of the art research in the acoustic materials and metamaterial fields.
Start Course Now