A Guide to Mastering QuickBooks 2016
Discover how to use QuickBooks like an expert by going beyond just checks and invoices with this free online course.
Publisher:

Bigger Brains
QuickBooks streamlines traditional bookkeeping for small and medium-sized companies, but to benefit from the software performance and efficiency, you may need to explore the system's powerful functionalities. This free online QuickBooks tutorial will prepare you for advanced payroll administration, sales tax, timesheets, barter transactions, document repositories, and complex reports useful for business owners' finance decision-making processes.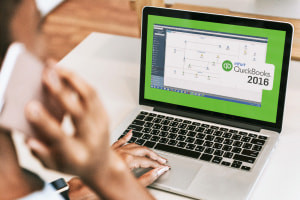 Duration

5-6 Hours

Accreditation

CPD
Description
QuickBooks is a global accounting software solution for individuals, small businesses, and medium-sized organizations with a toolkit to manage customers, vendors, clients, inventory, and financial information. You can systematically govern many parts of your business operations if you deeply comprehend the advanced capabilities. This free online QuickBooks certification will teach you the technical aspects and complex settings in a step-by-step instructional format. Begin your journey by learning about the advanced properties of the company menu, financial planning tools like budgeting and cash flow forecasting, bank reconciliation or account balancing, credit card recurring charges, and how to use the employee centre.
The next module in this bookkeeping course will show you how to enter payroll details into the system, such as sick leave and PTO data. In addition, the automation of direct payments, including the creation of employee paychecks, will be demonstrated. The usage of advanced payment tools and financial journal entry automation to keep transactions organized within QuickBooks is described before exploring how to compile, add, or modify a company's inventory information like product quantity or value. Within the inventory theme of this basic accounting using Quickbooks course, the usage of the inventory assembly feature for those final goods that required equipment, parts, and components for fabrication, will be further discussed. The following section explores the guidelines for documenting commercial activities such as customer deposits, barter transactions, and invoicing and then some other practical functions such as how to use timesheets for monitoring, invoicing, and incorporating them into the company's payroll system.
This QuickBooks training course concludes with instructions on using the document library, cash flow statement, and Audit Trail feature to properly manage your transactions and ensure a clean accounting registry. You will explore various basic troubleshooting techniques to improve your problem-solving skills for common issues. Finally, the features and resources available for the income and bill tracker are covered. QuickBooks is a user-friendly accounting tool that allows you to perform analytical operations on budgets, sales, vendors, inventory, and banking information. You will discover how beneficial QuickBooks 2016 can be in your professional life, from payroll management to automated financial operations. As an accounting student or professional, you can master the application-related accounting concepts and the methods of setting up, arranging and applying various features of QuickBooks by enrolling in this comprehensive accounting course.
Start Course Now