Web Page Development
Learn important web design features, including HTML and CSS, with this free online web page development course.
Publisher:

Russell Stannard
This free online web development course was developed by award-winning Warwick University teaching fellow Russell Stannard. If you want to create your own website but have no idea where to start, this is the course for you. In this course you will learn about the tools, skills, and techniques needed to create a professional looking web page which can help you to get your products and services out to a wider market and reach your audience.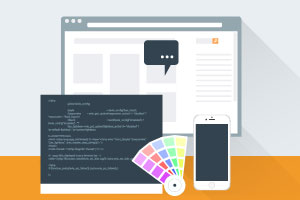 Duration

3-4 Hours

Accreditation

CPD
Description
This course introduces the basic languages and programmes needed to create and style websites such as HTML and Cascading Style Sheets. Sounds tough? Don't worry! The topics are delivered in a non-technical and step-by-step manner so you can understand them fully. First off, what is HTML? Also known as Hypertext Markup Language, it a standardized code for achieving font, color, graphics, and hyperlink effects on World Wide Web pages.
Next, you will learn about CSS. Cascading Style Sheets(CSS) describe how HTML elements are to be displayed on the screen, paper, or in other media. It saves a lot of work since it can control the layout of multiple web pages all at once. The course will cover the most important styles and style sheets, background and font styles, selectors, pseudo classes and pseudo elements, inheritance, and cascades used in CSS.
Learning the important features necessary to create a website is just a few clicks away with this free online course. This knowledge will be of great benefit to anyone looking build a professional website for their business, or for students who are trying to improve their web design abilities. So, enrol in this course today, and by the end of the week you will be able to start making your dream website a reality.
Start Course Now