Technology Forecasting and Alternatives to Forecasting
In this free online course, learn about forecasting and the alternatives to forecasting to boost your business acumen.
Publisher:

NPTEL
This free online course covers the difficulties encountered by companies in technology forecasting and provides alternatives to forecasting. You will be taught the practice of technological forecasting for strategic decisions. Following the mapping of the problems, formalisation will be discussed. Drivers and barriers, motivation to follow trends or not, will also be covered, along with how to check for consistency.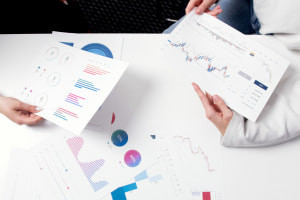 Duration

3-4 Hours

Accreditation

CPD
Description
Developing a business for the maximisation of profit is the goal of companies today. They can only achieve an expansion of their business through technological forecasting by considering what is to be expected in the long run. This course will introduce you to the types of planning practised by these companies, along with alternatives to forecasting. Companies use operational planning, tactical planning and strategic planning to prosper. Operational planning is about the who, what, when, and how of daily operations over the course of a year. It is meant to determine how human, financial, and physical resources will be allocated to achieve short-term goals. Following operational planning, you will learn about tactical planning, which is about breaking the strategic plan into specific, short term plans. Building upon tactical planning, strategic planning is the process of documenting and establishing a direction for your business. Companies usually turn to operational planning. Tactical planning is sometimes used, unlike strategic planning, which is seldom used. Preferring to be as efficient as possible today, companies do not care about long-term changes.
As you progress through the course, you will be taught that, instead of opting for technological forecasting, companies use alternatives that are equivalent to studies of the future. Companies study the future not only for forecasting but also for many other reasons, including technology monitoring. In short, technology monitoring consists of analysing relevant information and data about the company. From technology monitoring, they move to technology intelligence and technology roadmapping. Technology intelligence is about using collected data and information for decision-making while being aware of technology dangers and opportunities. Technology roadmapping connects predicted technological changes and products into strategic plans, thus matching short-term and long term goals with specific technology solutions. You will also be taught that companies resort to technology assessment, which is the study and evaluation of new technologies' contribution to the formation of public and political opinion on societal aspects of science and technology. Another complementary study is the technology readiness level for estimating technologies' maturity during the acquisition phase. In this course, you will learn about other parallel studies.
By the end of the course, you will have some insight into technological forecasting and the practice of technological forecasting for strategic decision-making. Technological forecasting attempts to predict the future characteristic of useful specialised machines, procedures or techniques. It is worthy of specifying that researchers create technology forecasts based on experience and current technological development. Numerous quantitative approaches are beneficial for forecasting, particularly in the fields of operational and tactical planning. Likewise, explorative qualitative methods are widely applied to forecast changes, but they are limited to answering questions when and where. Effective strategic decisions are confined by information-processing capabilities, cognitive biases, and decision makers' beliefs. This course will be of great use to leaders and managers of micro, small and medium enterprises who might resort to complementary studies instead of complete technological forecasting. Students specialising in management will find the courses particularly valuable. Start this course today to gain insight into forecasting and alternatives to forecasting.
Start Course Now