Ship Cargo Handling and Ventilation Systems
Free online course on the business and processes of cargo carriage involved in adequately conveying cargo using ships.
Publisher:

ADU
Ship Cargo Handling and Ventilation Systems is a free online course that offers an understanding of using ships for stowage and moving cargoes across ports effectively by all relevant stakeholders. Learn about the business of cargo carriage through the inspection of holds, different methods of securing cargoes, and the operation of ventilation systems in cargo holds on ships. Register for this course today and begin your next learning journey!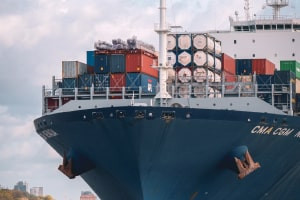 Duration

3-4 Hours

Accreditation

CPD
Description
In recent times, many countries around the world have transformed their agricultural-based economies to large scale manufacturing economies by utilizing mass manual labour and craftsmen at their disposal for the production of goods. Production lines filled with mass manual labour and craftsmen could not cater for the much-demanded goods of final consumers in such economies. This gave rise to labour union struggles between the management of manufacturing companies and workers because working conditions were getting worse as a result of excess supply of cheap labour for the maximization of profit. This trend gave rise to the advent of mechanized mass production and assembly lines beating overall production cost and ensuring excess production of units. Despite the excess quantity of products manufactured making use of rail and truck haulage to efficiently get to different neighbouring countries, more ways of harnessing industrialized production goods were still required. This was to be answered by what we now know as ship cargo transportation across continents. This free online course will expose you to the business and processes of cargo carriage involved in moving different product cargoes using ships.
Ship Cargo Handling and Ventilation Systems is a free online course that offers an understanding of using ships for stowage and moving cargoes across ports effectively with the help of all relevant stakeholders. The course also explains laws and regulations abided by stakeholders involved in ship cargo handling alongside general principles of safe cargo carriage. Also, the important processes involved in carriage carrying and successful delivery of cargo are well analyzed in this course. These processes consider aspects such as availability of the vessel at the load port, type, capacity, and load density of the ship designated to carry the cargo. Arrival and departure drafts of the ship as per port requirement and the capability of the ship to handle ballast as per the port requirement among many others are also considered by the important processes discussed in this course.. Upon successful completion of this course, learners will be able to describe the general cargo hold inspection procedure and loading preparations employed by ship cargoes including the use of dunnage and spar ceiling. Other relevant discussions explained in this course include the inspection and preparation of cargo ship holds.
This course aims to equip learners with a broad outlook of ship cargo carriage consisting of elements of securing cargoes using blocking, lashing, and shoring. Other elements of securing cargoes highlighted in the course include the codes and manuals used in safely securing different types of cargoes. Other ship cargo carriage elements covered by this course include the operation of ship cargo ventilation systems for controlling cargo sweat and the identification of different cargo types that require special ventilation. The course takes into account the desire of operating on an international scale for big manufacturing companies and multinational organizations. Which helps in harnessing massive cross-border trade of goods using ships for cargo and employing ventilation systems on board ship holds in preventing the damage of cargoes. This makes Ship Cargo Handling and Ventilation Systems from Alison the perfect free online course for students, researchers, marine engineers, shippers, ship cargo stakeholders, and anyone interested in learning about the safe stowage of cargo materials on ships. Register for this free online course from Alison today to improve your understanding of ship cargo handling and securing alongside ventilation systems used in preserving the life of cargo materials.
Start Course Now