Practising English Language Grammar Skills
Practice high quality English grammar and boost your ability to communicate proficiently in the English language.
Publisher:

Advance Learning
This free online English Language Grammar Skills course will help improve your English communication skills by mastering English grammar rules. Being able to speak and write in English proficiently is always a great advantage. English is an extremely important global language that opens doors everywhere. With this course, you will get a better grasp of English grammar, which will greatly enhance your English skills.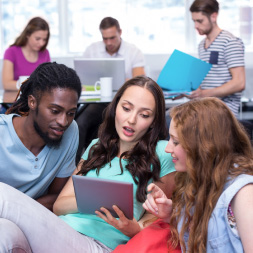 Duration

1.5-3 Hours

Accreditation

CPD
Description
If you have taken these two Alison English language courses, "Fundamentals of English Grammar" and "Introduction to Conversational English" then you are ready to proceed to the next level. This next course will help you master English tenses with practice. Tenses are very important for expressing the time of action in the English language. If you use the correct tense, misunderstandings and miscommunications can be avoided. The course focuses on the present continuous, past perfect, past simple, present perfect continuous, and past perfect continuous tenses.
As you go through the lessons, you will also learn the correct way of forming comparatives and superlatives. Whether it be in your day-to-day conversations or in business, you can use comparatives and superlatives to make comparisons, express preferences, and give value judgments. The course also helps you practice reported speech. Reported speech, unlike direct speech, can be confusing, so it's great to get more practice in this area.
This course will be really helpful for anyone who wants to improve their English language grammar skills. After completing this course, you will be able to identify rules of grammar in the English language, use tenses such as the present continuous, past perfect, past simple, present perfect continuous and past perfect continuous correctly, form comparatives and superlatives, and use reported speech in the correct form. Practice makes perfect, so start the course now.
Start Course Now