Managerial Decision Making - Materials and Warehousing
Learn the characteristics of managerial decision-making in the warehouse in this free online course.
Publisher:

NPTEL
This free online course on Managerial Decision Making - Materials and Warehousing will educate you on how the warehouse operates and how automation is beneficial to this operation. Decision-making is an essential part of modern management, and in a warehousing environment, every decision has to be precise as there may be damaging consequences. The administration section within a warehouse is not for the faint of heart or the indecisive!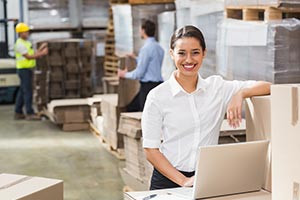 Duration

1.5-3 Hours

Accreditation

CPD
Description
Would you like to understand the role of warehouse managers and examine the many decisions they face daily? This managerial decision making course will give you the essential skills to maintain and control the materials in a warehouse. Firstly, you will learn that management decisions, even when made in different departments, ultimately affect the business. Warehouse managers are no different. A slip-up, a misunderstanding, a delay and the industry may suffer financially. Purchasing raw materials is an essential part of any business and especially in the manufacturing sector. If there is damage or vandalism of the materials, it will raise the cost to the company. Therefore, it becomes necessary for an organisation to have a solid and efficient warehouse and a material's management manager. Material management is a small part of warehouse management dealing solely with material that contributes to completing the end product.
Next, this course will introduce you to the different aspects of warehouse management. How does a warehouse manager choose where to put materials? In what manner do workers communicate? When do you know what to do and for what reason? These are some of the questions that this course endeavours to provide answers to these mysteries. Additionally, you will discover how materials are managed in the warehouse, how the manager seeks to reduce theft and how easily and simply thefts can occur in a warehouse. You will learn the different techniques of packing goods in a warehouse, why these classifications are needed, and the pros and cons of these methods. Have you ever wondered how forklift operators do not collide with goods and or people in the warehouse? This course will explain this and also demonstrate how warehouse management significantly improves the overall effectiveness of the production in an organisation.
Finally, you will learn how DSS are used in the warehouse and how automation can be beneficial. Humans, alongside artificial intelligence, work together towards one common goal. The warehouse is one of the most essential places within an organisation and one of the most time-sensitive places. It sets the tone, the majority of the time, for how customers perceive an organisation. You will learn how DSS in a warehouse gives you better authority over your inventory and guarantees that customers will receive their products on time, which sequentially leads to higher profits. Additionally, the products stored in warehouses are typically insured, meaning they'll have greater probabilities to receive reimbursement from your insurance company in case of damage, fire or theft. Are you a warehouse manager or a potential warehouse manager? Are you curious about what happens in a warehouse? Then go ahead, start your journey and enrol in this course today!
Start Course Now