Inventory Management - Using Inventory Models
Do you know exactly when and how to place the best inventory orders? Gain professional inventory management skills today
Free Course
Any business with an inventory must ensure they never order too many or too few materials, and that they never place an order too early or too late. Making these inventory management mistakes can result in running out of products, or overspending on holding and ordering costs, both of which are bad for business. This course will show you the best inventory models available, to ensure your goods and services flow to your customers without delay.
Take this certificate on your own.
Start now and learn at your own pace.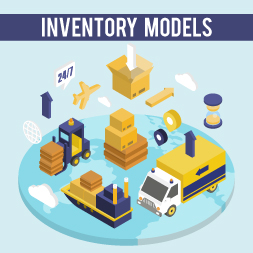 Description
The course begins by introducing you to the basics of inventory management. This will include a run through of fundamental inventory management concepts such as deterministic demand and probabilistic demand. You will then be guided through the most important types of costs, such as cost of item, order cost, and holding or carrying cost. The course will then show you how to use these inventory management principles and tools in practice to maximise the efficiency of your procurement procedures.
You will then be introduced to the three most effective inventory models in use today. These models help determine how much inventory should be brought in to restock your products or parts. First, the course will give you a clear, step-by-step run through of the single period inventory model, then the multi-period inventory model, and finally the economic order quantity (EOQ) model. These models will be explained in detail using worked examples, so you can get both a theoretical and a practical overview of inventory management tasks.
By the end of the course, you will have a strong understanding of inventory management skills and will be much more able to handle procurement tasks professionally. These are core skills for anyone in or wanting to enter an operations management career path, or for anyone who is in charge of a business inventory. This course will teach you these techniques in a clear and simple manner, making it as easy as possible for you to grow your career and become a true professional. So get started, and in less than 4 hours you'll have received a great career boost.
Start Course Now
h
Need Some Help?
What is inventory management?
What are the best free online inventory management courses?
How much does an online inventory management course cost?