Introduction to Transact-SQL
Gain a better understanding of what SQL and Transact-SQL are and learn how to query databases using T-SQL.
Publisher:

Channel 9
This free online Introduction to Transact-SQL course will teach you how to construct queries using the select statement. It will teach you how to refine your select statement search with various clauses that can be applied to it. You will learn how to sort and filter queries as well as combine data from different sources within the database. You will also look into the various data types that a database can hold, and more!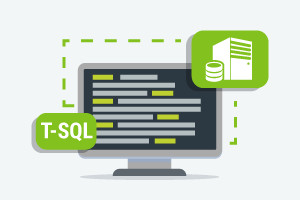 Duration

3-4 Hours

Accreditation

CPD
Description
This course begins by teaching you how to set up an Azure SQL Database environment. SQL stands for Structured Query Language and is generally used as a standard across the industry for interrogating databases. You will learn how to construct SELECT statements to return data from a database and describe the different data types and their uses. You will also learn how to identify NULL functions and how they work with SQL queries.
You will then learn how to remove duplicates from SQL query searches, sort SQL query results, and construct a SQL query with predicates and filtering. This course will also teach you the concept and uses of a Join. You will learn where to implement Joins in SQL queries, how to apply the UNION operator in a SQL query to combine data from two different tables, and where to add INTERSECT and EXCEPT operators in a SQL queries.
Mastering the process of querying database is a very useful skill that you can easily acquire with this databases course from Alison. Once you have gone through all the modules, you will gain a better understanding of how to combine queries using the Intersect and Except queries, how logical function works, how to filter using the group by sub clause and Having clause, and more! Start this course today to improve your SQL abilities.
Start Course Now