Introduction to Masonry
Learn important masonry tools and techniques as well as the precise roles of modern masons with this free online course.
Publisher:

USAID
Masonry is an ancient trade, but to this day masons are highly valued and in-demand members of our workforce. This course will introduce you to the masonry trade including its history, the essential considerations of masonry materials, tools and equipment, as well as drawings and measurements used in the field. By the end of the course, you will have improved your professional skills and be much more prepared to grow your career in masonry.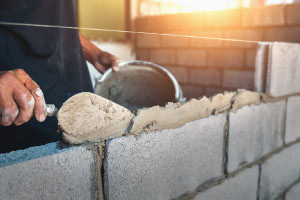 Duration

1.5-3 Hours

Accreditation

CPD
Description
To begin, you will be introduced to basic masonry units such as clay bricks, concrete blocks, and stone. You will learn the correct process for masonry work such as the spreading of mortar, furrowing, buttering, and bricklaying. The course will also teach you the important terms associated with the profession such as a "course" - which is a horizontal layer of similar bricks or stones that are bonded with mortar - and "hearting" which is the interior portion of a wall between the facing and backing.
Next, you will be guided through essential masonry hand tools and equipment, including the different types of trowels for leveling, spreading and shaping mortar or concrete, mortar hoes for achieving the right consistency when mixing water with dry ingredients, line stretchers for keeping lines straight vertically and horizontally, and more. You will also learn the importance of math skills to be able to accurately read masonry specifications and drawings.
Pave your way to a better profession in construction by acquiring the masonry skills needed in the industry. This course will be of great interest to all professionals who want to understand what the masonry trade encompasses and learn the basics of masonry. It will also be of interest to all learners who want to gain a comprehensive understanding of a mason's job. So, get started with the course today and understand the masonry tools, equipment, and procedures by the end of the week!
Start Course Now