Improving Your French Language Skills
Learn a more impressive range of French vocabulary and grammar and improve your French language skills today.
Free Course
Spoken by over 190 million people around the world, French is a beautiful language. There are so many reasons to learn French, from living abroad or developing business connections, to just making your next holiday a little bit smoother or passing your next school exam. In just 3 hours, this free course will improve your knowledge of both French grammar and French vocabulary, so that you can give your French language skills a nice boost.
Take this certificate on your own.
Start now and learn at your own pace.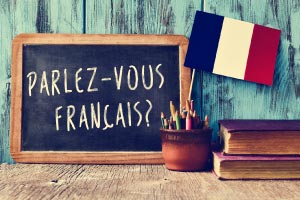 Description
This free course is designed to greatly improve your French language skills by introducing you to essential and interesting French grammar and vocabulary in a clear manner. The course starts by giving you some practical tips for improving your French pronunciation skills. Next, you will learn some really useful French vocabulary to make your day-to-day interactions with French-speaking people a lot easier. This will include French vocabulary that is specifically relevant to managing your house, so you can get all your essential tasks done through French.
Next, you be given a strong run-through of useful French grammar rules, so that your French can sound more natural and free-flowing. The course will then give you tips for improving your use of French adjectives, adverbs and pronouns, which are key to opening up more advanced elements of the French language. By the end of the course, your French vocabulary and grammar will be much expanded, which will give you a nice lift in confidence the next time you speak French.
Whether you just need to pass a French exam in school, or are thinking of holiday or even a life in France, this is the course for you. Using clear, simple guidance and a combination of audio and text-based tools, the course will boost your French language skills in just 3 hours, and all for free! So get started, and improve your French language skills today.
Start Course Now
h