Health & Safety for Scaffolds and Scaffolding Work
Learn more about scaffolds and scaffolding work in construction including their common hazards and risk controls.
Health
Free Course
This free online health and safety course for scaffolds and scaffolding work will give introduce you to scaffolds and teach you how they are used for scaffolding work. This course will teach you about the duties and responsibilities of different groups of people when scaffolding work is being undertaken, and detail the most important measures that are taken to ensure that workers and passers by aren't exposed to health and safety risks.
Take this certificate on your own.
Start now and learn at your own pace.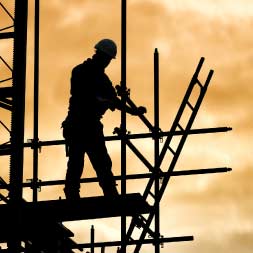 Description
This course begins by discussing the duties of different groups of people when scaffolding work is ongoing. These include the suppliers of scaffolding, installers, and officers of the company. A scaffold is a temporary structure that is erected to support access or working platforms. You will study the risk management steps to follow for using scaffolding including consideration the health and safety as well as cooperation with the policies, procedures, and instructions.

You will then study the different types of scaffoldings. With this course, you will learn about the functions of birdcage scaffold, the trestle scaffold, the hung or hanging scaffold, the single-pole scaffold, the suspended scaffold, the tower scaffold, and the mobile scaffold. You will also look into specific purpose scaffolds such as heavy or special duty scaffold, cantilever scaffold, hanging bracket scaffolds, spur scaffold, tube and coupler scaffolds, and prefabricated scaffolding.

Scaffolds are important for construction work by providing a safe, stable work platform. Upon the completion of this course, you will gain a better understanding of the duties of the different groups of people when it comes to scaffolding work, the risk management steps to follow for using scaffolding, the features of different types of scaffold, and more. Sign up for this course and learn the proper way of using scaffolds and scaffolding in the workplace.
Start Course Now
Need Some Help?
What are the best free online construction courses?
How much does an online construction course cost?