Health and Fitness - Running Tips, Swimming and Strength Training
This free course will teach you how to build your overall fitness through running, swimming, and strength training.
Free Course
This physical fitness course will teach you how running, swimming, and strength training can improve your strength, flexibility, endurance, and overall fitness levels. It will also teach you how to conduct these exercises safely, and guide you through different types of exercises that can be used to increase strength in all areas of the body, including the legs, back, shoulders, arms, and chest. All this, for free.
Take this certificate on your own.
Start now and learn at your own pace.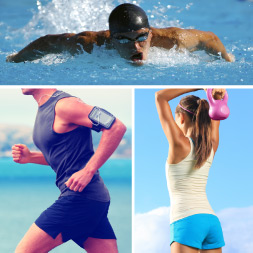 Description
Running provides a really worthwhile aerobic workout, and should be a fundamental part of any physical training program. This course will first discuss the characteristics of a good pair of running shoes. You will learn about suitable surfaces for running in order to avoid injury, and the precautions that must be taken when running in different conditions. You will also study the importance of performing a warm-up and cool down before and after exercises.

Swimming is an excellent exercise for overall fitness. Aerobic endurance, power, strength, and flexibility are all enhanced by swim training. This course will teach you the benefits that swimming has for the cardiovascular system. Next, the course will discuss the effects of strength training on one's agility, speed, and overall levels of fitness. You will learn the difference between circuit weight training and split-routine training, as well as the different exercises that you can use to develop strength in legs, back, chest, shoulders, and arms.

Running, swimming, and strength training are great ways to improve your physical fitness and promote your well-being, which can be an excellent source of confidence. This course will teach you how to engage in all these activities in a safe and productive manner. So why wait? Check out the course today, start improving your health, and get the most out of your work out routines.
Start Course Now
h