Great Artists and Their Works
Learn about world famous artists and develop your understanding of the art they created with this free online course.
Publisher:

Smart History
This free online art history course will give you a comprehensive overview of the lives and works of great artists like Leonardo da Vinci, Raffaello Sanzio da Urbino better known as Raphael, Michelangelo Merisi da Caravaggio, Jacques-Louis David, Edouard Manet, and Pablo Picasso. It will also examine great works of art such as The Last Supper by Leonardo, the Frescos in the Sistine Chapel by Michelangelo, and more.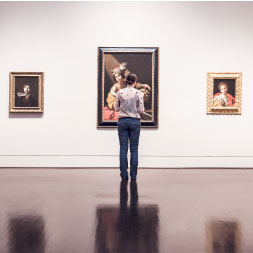 Duration

5-6 Hours

Accreditation

CPD
Description
This course begins by giving you an overview of the works of art by Michelangelo. You will look into the Sistine Chapel, The Pieta, Moses, Rebellious Slave & Dying Slave, Laurentian Library. You will also study the masterpieces of Raphael which include Madonna of the Goldfinch, La belle jardinière, Alba Madonna, School of Athens, and Portrait of Julius II. You will also cover the works of Leonardo da Vinci, Bernini, and Caravaggio.

You will then look into the works of Jacques-Louis David including the Oath of the Horatii, The Death of Socrates, Brutus the Bodies of His Sons, The Intervention of the Sabine, and Emperor Napoleon in His Study. What's more? You will also study the works of great artist Edouard Manet which include Luncheon on the Grass and The Balcony as well as those of Pablo Picasso which include Les Demoiselles d'Avignon and Still Life with Chair Caning.

Great artists and their works inspire and move people even centuries after the works of art were created. Upon the completion of this course, you will be able to identify and discuss works of art by great artists like Michelangelo, Leonardo da Vinci, Raphael, Caravaggio, Bernini, Jacques-Louis David, Edouard Manet, and Pablo Picasso. Check out this course and marvel at the talents of the great artists of all time and learn a wealth of knowledge!
Start Course Now
Need Some Help?
Who are the greatest artists of all time?
What are the best free online courses on great artists?
How much does an online great artists course cost?