Fundamentals of Credit Management
This free online course will provide the knowledge required to manage credit and set effective payment conditions.
Publisher:

Zenith Academics
This 'Fundamentals of Credit Management' course explores the best credit management techniques to help your customers. It teaches lending principles, setting terms and the various types of borrowers. In addition, this course teaches you how to analyse income statements, examine and interpret ratios like liquidity and solvency ratios and learn about working capital loans and appraisal loan terms. Enrol today!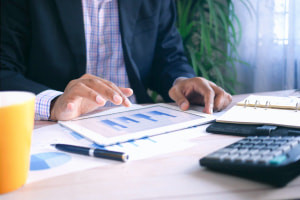 Duration

1.5-3 Hours

Accreditation

CPD
Description
We have designed this course to help credit managers find worthy borrowers and set practical credit repayment terms and conditions. This course begins with the basics of credit management: checking the borrower's credentials, capital and character, which will help you understand their willingness and capacity to repay the credit. Then you will learn the role of the credit officer, including analysing and verifying all data provided by the borrower, undertaking due diligence at each step and evaluating the underlying risk of financing before making a final decision. Next, we will introduce you to the principles of lending. Investigate the banking risks and their types, including liquidity, credit or default, operation and strategic risks. Learn about due diligence and various types of borrowers, including individual borrowers, partnership firms and the Hindu Undivided Family (HUF).
The following section introduces the income statement and its importance in the business. It includes detailed information about the business's income stream during the year, a list of expenses made by the company during the period and an analysis of the income statement. Next, you will learn about a business's work operating cycle, which can be either gross or net. You will also learn about ratios, defined as 'the relationship between two variables'. We categorise ratios into four types. These include turnover, solvency and profitability ratios, which measure the capacity of the concerned to earn profits. Finally, you will learn about working capital loans which could be fund-based support in cash or non-fund based. Calculate the drawing power. Research depreciation and the role of the debt service coverage ratio in ensuring the borrower meets his debt obligations.
Credit management entails finding and verifying a borrower's worthiness, setting the terms on which the credit is granted, recovering the credit when the time is due and ensuring strict compliance with company credit policy. Credit management will improve the cash flow and reduce the rate of late credit payments in the company. By taking this course, you will gain the necessary knowledge and skills to manage credit, which will help you maintain strong cash flow in the company and obtain security interests where necessary. This course will boost your career and company. Why are you waiting? Take this course today and acquire a new skill.
Start Course Now