Food Service Excellence - Meat Cutting and Processing
Learn about the standard procedures for meat processing and cutting in this free online food service industry course.
Publisher:

BCcampus OpenEd
This free online Food Service Excellence course will teach you about meat cutting and processing for the foodservice industry. The course teaches you about different types of meat and poultry, and the terminology used when discussing them. It will also teach you about how meats are inspected and graded. Start this free online course today to learn the key procedures and inspection steps in cutting and processing meat.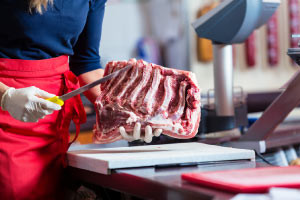 Duration

1.5-3 Hours

Accreditation

CPD
Description
This free online course, "Food Service Excellence - Meat Cutting and Processing" covers the key procedures and inspection steps in the meat cutting and processing industry. These are essential for any meat product being sold, whether in a retail setting or to restaurants, as they ensure high-quality standards in the food service business. This course will also give you a basic understanding of the various meats, meat cuts, beef pork, and terms for meat cuts, in the foodservice industry.
The meat cutting training course starts with a module on the science and nutrition of meat, where you will learn about the composition of meat, and terms such as marbling. The course also covers the chemical changes that can happen in the animal before and after slaughter, the aging of the meat, the meat fibers, and factors affecting tenderness. You will learn about meat colours and how to prevent discoloration of the meat, as well as abnormalities that can be encountered and diseases associated with meat and meat products. You will be informed about human-introduced residues of hormones and antibiotics in meat, the nutrition in meat, and proper handling and storage procedures.
Next, there is a case study that covers the Canadian inspection and grading regulations for the various meats, and how the different meats have different grading types and levels. In the final module, you will be taken through the different cuts of meat taken from the meat cutter or animal carcasses, detailing the prime and sub-prime cuts, which are then broken down into smaller retail cuts for restaurant and retail use. This course will be of great interest to anyone working in the food service industry, or farmers looking to know more about how their livestock is processed before it reaches retail or restaurants. So start this course today and learn valuable skills about meat cutting and processing for the Food Service industry.
Start Course Now