English for Tourism - Hotel Reception and Front Desk
Strengthen your customer service skills by studying English for hotels, travel, and tourism, with this free course.
Publisher:

Openstax CNX
The hotel industry is one of the biggest in the world, employing tens of millions of people globally. This means that if you can gain the necessary skills for working in a hotel then you can live and work almost anywhere. To get you started, this course will teach you how to answer general hotel inquiries, how to provide a brief description of a hotel's facilities, how to outline a hotel's check-in and check-out procedures, and much more.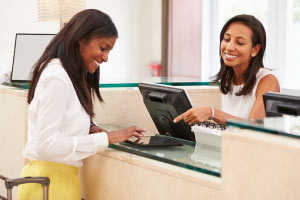 Duration

1.5-3 Hours

Accreditation

CPD
Description
Hotel check-ins and check-outs are extremely important responsibilities for hotel receptionists, as they are the guests' first and last interaction with hotel staff. This English course first teaches the steps involved in checking a guest into a hotel. You will learn how to greet guests, make confirmations, and ask for personal identification and payment. You will also learn how to provide room keys and room numbers, as well as give room directions. You will also learn how to offer help with bags.

You will then learn the steps involved in checking a guest out of a hotel. The course will teach you how to make the proper greetings, take the room number, and check customer satisfaction. You will then learn how to properly present the bill, ask the guest to sign it, and identify the payment type. The course will also teach you how to bid the guest farewell. Very importantly, you will learn how to resolve complaints that guests make about hotel staff and service.

English is the main language of international communication and is essential for people working in the tourism industry. Upon the completion of this course, you will learn the English vocabulary necessary for working at a hotel reception or front desk. You will also learn how to resolve customer complaints with helpful and non-offensive phrases. Check out the course and advance to an intermediate level of English with a focus on the travel and hospitality industries.
Start Course Now