Effective Communication Skills for Managers
Improve your workplace communication skills with practical techniques and boost your management ability today.
Publisher:

Walkgrove
Any aspiring manager needs to know how to communicate effectively. Communication skills are essential for all major tasks in the workplace, from understanding employees' concerns and requests to ensuring that objectives are clear. This free communications course is designed to boost your workplace communication skills in just 3 hours, so that you can have the confidence and clarity of communication that you need to really excel as a manager.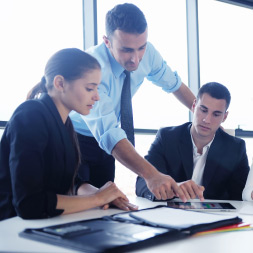 Duration

1.5-3 Hours

Accreditation

CPD
Description
The course begins by showing you in a step-by-step manner how you can successfully prepare for and engage in any difficult conversation you may be faced with in a workplace situation. You will learn about the rules of communication, the importance of non-verbal communication and how to develop effective listening skills. You will then learn how to build rapport with your colleagues so that you can start to lead the conversation. You will also learn how influence works and how to strengthen your skills of influence and persuasion.
Next, you will learn how to plan and develop an effective presentation. The course will show you how to overcome nervousness and deliver presentations naturally, whether you are speaking at a small team meeting or presenting to an audience of hundreds. Finally, you will learn about the key communication skills needed for successful team meetings. You will also learn about the importance of creating and distributing minutes of the meeting that accurately describe what was discussed at the meeting, any action points that were agreed upon, and who has responsibility for these action points.
If you want to strengthen your managerial skills, or are hoping to become a manager, then this is the course for you. Every manager needs these skills, and with this short course you can gain them in just 3 hours. By the end of the course, you will have ability to speak clearly and effectively. More importantly, you will have gained a confidence that will really help you in your professional life. That's a great reward, so get started and by the end of the week you'll have given yourself a great boost.
Start Course Now