Diploma in Databases and T-SQL
Learn about database technology and how to program using T-SQL, and get a strong boost to your IT career development.
Free Course
Understanding database technology, how it works and what it can be used for, is essential for any aspiring programmer. Databases underlie a huge range of programming applications, and businesses are becoming more and more invested in using databases to monitor markets. This free course is designed to teach you all you need to know about database technology and how to program using T-SQL, so you can boost your IT career in just a few short hours.
Take this certificate on your own.
Start now and learn at your own pace.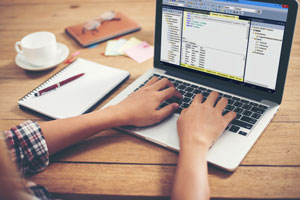 Description
This course begins by introducing you to databases and the key components of a database structure - normalization and referential integrity. The course then teaches you about the Data Definition Language and how to create, alter and delete databases. You will then be introduced to DML or Data Manipulation Language. This includes how to use essential statements and the functions and clauses that come with them, such as the SELECT statement and INTERSECT and EXCEPT functions. This will help you with the next lesson where you will learn how to update and delete data in a database.
Next, you will learn how to program in T-SQL, how to sort and remove duplicates, and how to use and understand the most important types of joins. In this section you will also be introduced to subqueries and their function. Next, the course will teach you about security levels and applying security to your databases. You will then learn to use apply operators, present your data with views, build temporary tables, and pivot your data. Finally, and very importantly, you will learn about errors in a database engine, and how to delete them.
Any aspiring computer programmer who wants to boost their career needs to learn about database technology eventually. If you want to gain a solid understanding of this area, then this is the clear and simple course for you. By the end of the course, you will be up-to-speed on database technology and will have the ability to program in T-SQL. That's a great reward for a free course that takes less than 10 hours. So why wait? Give yourself a great professional boost today.
Start Course Now
Need Some Help?
What are the best free online database courses?
How much does an online database course cost?