Diploma in Applied Operations Management
Learn about the practical applications of theory and concepts in operations management.
Free Course
Learn about the practical applications of theory and concepts in operations management.
Take this certificate on your own.
Start now and learn at your own pace.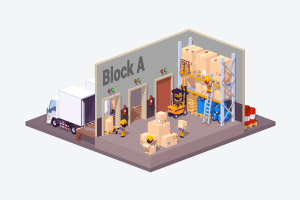 Description
The course Diploma in Applied Operations Management introduces learners to the practical applications of the theories and concepts that underpin operations management.

The course begins by showing learners why virtually all operations management decisions are based on a forecast of the future. Forecasts drive strategic operations decisions, such as choice of competitive priorities, changes in processes, and large technology purchases. Forecast decisions also serve as the basis for tactical planning and developing worker schedules. The course describes why forecasting is critical to the management of all functional areas within an organization and you will learn about forecasting methods such as time series forecasting. These forecasting methods are explained in detail with worked examples throughout.

Aggregate planning allows management to quantify materials and other resources that are to be procured so that the total cost of operations are kept to the minimum over a set period of time. You will be introduced to aggregate planning methodologies such as the tabular method and linear programming. The course also introduces the linear programming technique and a special type of linear programming known as the Transportation Model, which can be used to obtain aggregate plans that would allow balanced capacity and demand and the minimization of costs. Line balancing is used to minimize idle time and remove potential bottlenecks within a process.

The course introduces the concept of line balancing and explains terminology associated with it, such as tasks, task precedence, task times and cycle time. You will learn about heuristics for working out line balancing problems in lean production, such as the shortest processing time and the longest path in the network. You will also learn about quantitative methods, such as the p-median model, which is used to model many real world situations, such as the location of public or industrial facilities, warehouses and other facilities. Inventory models help firms determine the order quantity that minimizes the total inventory holding costs and ordering costs, as well as the frequency of ordering, to keep goods or services flowing to the customer without interruption or delay.

Several models are available to help determine how much inventory should be brought in to restock the products or parts, and you will be introduced to inventory models such as the single period inventory model, the multi-period inventory model and the economic order quantity (EOQ) model. These models are explained in detail using worked examples.

This course will be of great interest to all learners who have certified in Alison's Diploma in Operations Management as it introduces practical applications of operations management. It will also be of great interest to all professionals working in the areas operations management or general management who would like to learn more about the practical applications of operations management. The course will also be of interest to all learners who are interested in operations management as a future career.
Start Course Now
h