Colour Theory for Artists and Designers
Learn about color theory and understand the theories and principles that are most relevant to artists and designers.
Publisher:

David Briggs
This free online colour theory course, designed for artists and designers, will teach you about advanced colour theory. Did you know that people are capable of seeing more shades of green than any other colour? Or that when orange sits next to black it looks more orange? With this course, you will learn that colour is the reason why a sunset can be spectacular, why a city centre can be depressing, and a whole lot more!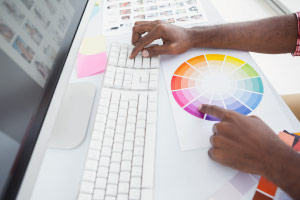 Duration

3-4 Hours

Accreditation

CPD
Description
An accurate understanding of colour theory is essential for graphic designers, artists, photographers, and anyone involved in the visual arts. The course will first introduce you to several important aspects of colour and light perception such as hue, lightness and chroma. It will then go through the concepts of brightness and saturation and how to apply these concepts in your profession or hobby.
You will then learn highly practical skills such as mixing paints, and additive and subtractive colour mixing, before finally going through the core psychological components of visual perception of colour. The course also offers you interactive graphics that further explain the concepts in the text and make things clear and simple.
If you want to practice the visual arts, or just want to enhance your knowledge and understanding of colour theory, then this is the course for you. Don't worry, you don't have to be (or want to be) a professional. Anyone who wants to make their home, photographs, garden, or even desk a little bit more beautiful can use this fantastic knowledge about colour. It's interesting, it's fun, it's useful, and it only takes 4 hours to learn.
Start Course Now
Need Some Help?
What are the best free online color theory courses?
How much does an online color theory course cost?