Business Intelligence and Knowledge Management Systems
Gain a better understanding of the benefits of business intelligence and knowledge management systems with this course.
Publisher:

Global Text Project
This free online business intelligence and knowledge management systems course will give you a better understanding of the information tools used to assist decision-makers. Business Intelligence is a set of theories and methodologies that handle large amounts of data and information to assist managers with decision-making. With this course, you will also learn the process known as decision-making including the three steps involved.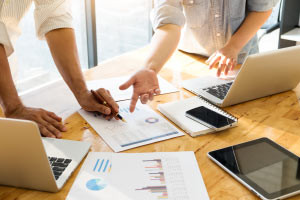 Duration

1.5-3 Hours

Accreditation

CPD
Description
This course begins by discussing the information tools designed to help decision-makers. You will study the function of Neural Networks, the four levels of expertise that can be applied to unstructured decisions, the process and three steps in decision making, and the differences between structured and unstructured decisions. You will learn that decision making is the process of making choices and is the central activity of all management. In addition, you will look into how strategic planning can help managers "see" the future and assist them in formulating long-term plans.

You will then look into knowledge management which is the process of capturing, storing, retrieving, and distributing the knowledge of the individuals in a business for use by others in the business to improve the quality and/or efficiency of decision making across the firm. In addition, this course will discuss groupware systems which are IT tools used to improve a company's internal and external communication in relations with their clients. It will also discuss the two reasons why knowledge is often slow to enter such systems.

Making decisions or choices, such as what products to sell, in which markets to sell those products, what organizational structure to use, and how to direct and motivate employees can be tough for managers. With this Business Intelligence and Knowledge Management Systems course, you'll learn the right process and useful tools that can help you in making the right decisions. Make sure to enrol in this course and enhance your management skills today!
Start Course Now