Business Communication - Fundamentals of Business Writing
Learn more about business writing and gain the ability to write clear, concise, and efficient texts for work.
Free Course
Being able to write a clear, professional business text saves you time and allows you to be taken more seriously by your boss, colleagues, or people you want to be interviewed by. That can be a great source of confidence, and a powerful tool for career development. This free course is designed to give you the professional Business Writing skills you need to write concise, efficient texts and really excel in your work.
Take this certificate on your own.
Start now and learn at your own pace.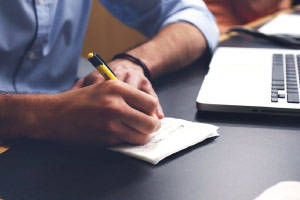 Description
The course will first introduce you to the principles of written communication in a modern business environment. You will see how preparation is crucial for successful writing and learn how to use a planning checklist when writing any type of business message. You will then learn about the rules that govern written language, before being introduced to different writing styles and shown how to choose the right style for different situations.
The course will then teach you a powerful skill- the ability to prepare and present information in a way that will increase understanding, retention, and motivation to act. You will then learn some of the legal implications of business writing, before moving onto the section on business letters. Here, you will be guided through the three basic layouts of business letters, taught the function of these letters, and be shown how to write a professional, high quality business letter.
Professional writing skills are so important in the modern business world. Whether you are sending an inquiry to a company or organisation, or writing a job application, having a correctly formatted letter can make the difference between being taken seriously or not. By the time you complete this course, you will have the confidence and skills needed to write professional texts that are distinctive and high quality. This skill will serve you throughout your life, and could be the one that gets you into your next job interview. So why wait?
Start Course Now
h
Need Some Help?
What is business writing?
What are the best free online business writing courses?
How much does an online business writing course cost?