Beginner English 109
This free online beginner English course explains how to discuss money and provides vocabulary relating to food groups.
Publisher:

Advance Learning
This English speaking course is the ninth installment of the thirteen-part 'Beginner English' series. The course explains how to read and pronounce prices to help you easily ask questions at the shops such as 'how much is this?'. We then discuss intensifier adverbs like 'very'. Our vocabulary section covers various food groups and their containers. This course can help you polish your English skills and boost your confidence.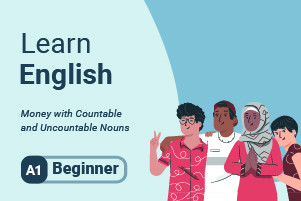 Duration

1.5-3 Hours

Accreditation

CPD
Description
This basic-level English course helps you continue on your path towards speaking, listening, reading and understanding the English language. This ninth installment builds on the 'Beginner English 101' to '108' courses. It covers pronunciation, grammar and vocabulary and provides a firm foundation in these areas to help you form basic expressions, ask questions and meet basic needs related to food.
The first section of the course explains how to pronounce and read words about money and prices. We explore major currencies from around the world and the many ways you can name a particular cost. We demonstrate how to use the terms 'how much?' or 'how many?' to ask basic questions relating to food and prices. We then show you how to combine countable and uncountable nouns with these phrases. The course then lays out the terms 'any' and 'some' and teaches you how to respond in the positive or negative form. These phrases will help you to conduct a conversation in a shop or marketplace. The last part of our grammar section describes intensifier adverbs. Intensifiers help to strengthen the meaning of an expression and emphasize another word and include words like 'really', 'so', 'very' and 'too'. 
The final section of the course provides vocabulary related to food. We identify various food groups, varieties of food found under each group and the amounts and containers they typically come in. This can help you travel or enter a shop with English-speaking owners. English is a popular global language and this course uses videos, images and exercises to enhance your learning experience and give you the courage to speak the language. Sign up to take another important step towards proficiency in English.
Start Course Now